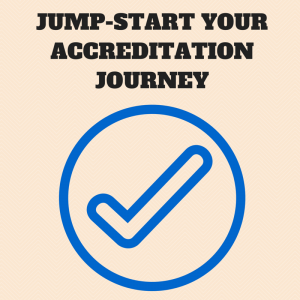 Thinking about accreditation? Here are 8 helpful questions that you can use as a guide to help ease your organization into the accreditation process. We will group the six questions into four simple steps to make jump starting your accreditation process simple.

What type of accreditation do you need? and what are the different types of accreditations in your industry? Do research to find what accreditation are recognized in your industry and what payors are looking for. Know your competition. Are they accredited? If so what accreditation do they have. There are many different accrediting bodies so make sure you do your research. For example: URAC is a highly respected accreditation body for Specialty Pharmacy but the CPPA (Center for Pharmacy Practice Accreditation) is also jumping on board with a new Specialty Pharmacy accreditation program. Both are well respected, so your next question might be, what are the costs of each accreditation and what are their expected payoffs?
What is your accreditation budget? Do you have a budget set aside for accreditation? If not, could outsourcing accreditation deliverables be an option? If you have the resources, double check to make sure there are resources allocated outside of the upfront cost of accreditation in order to cover work on the initiative. Construct a plan with the total time requirements and cost per staff member to ensure you have enough budget allocated. 

The accreditation process takes time and if you have a deadline or prospect who requires accreditation, be forewarned that you can't rush the process. Your time is crucial. Do you have a solid time-frame and do you understand the accrediting body's time-frame? Preparation is also a key success driver for accreditation. Is your organization prepared? Conducting an organizational analysis or in-depth internal review will help you identify gaps you may have to fill once you begin the accreditation process. Knowledge will help streamline the early stages of your accreditation journey.

What are your goals? How will you maximize your return on investment? If you want to maximize your ROI you might need to focus on a website redesign or new brochure to market your accreditation. It's important to remember that you will also have to  allocate additional resources, post becoming accredited, to ensure a continuous state of compliance and quality. Generating a clear communication plan for payors and networks and clearly communicating your accreditation goals to the accrediting body will also be key.
These are just a few helpful questions and steps that we hope help jump-start your accreditation journey. If you are still interested in accreditation success you definitely want to read our free white paper "The Secrets to Accreditation Success." It focuses on process the key elements to keep your team organized during accreditation, how increase communication and efficiency, and a general overview key success drivers. If you already know what accreditation you want but need help choosing an accreditation body, you might find this comparison of the 5 big accreditation organizations helpful!
Click here to download this free white paper!