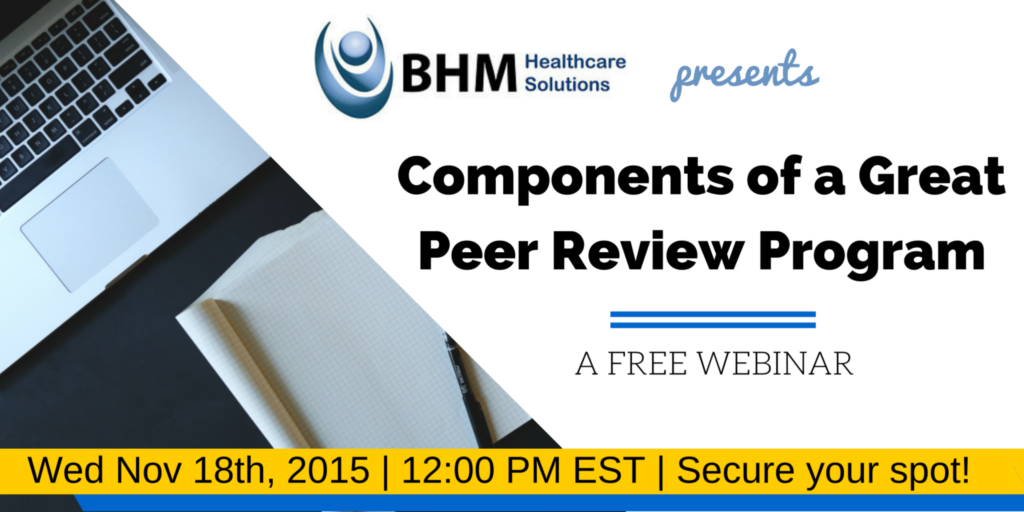 A Free Webinar Covering Essentials Needed for A Great Peer Review Program
Join BHM experts Nov. 18th from 12:00-1:00pm EST for the complimentary webinar "Components of a Great Peer Review Program." This not-to-miss exclusive event will reveal essential components that organizations need to create a Peer Review program that provides added and ongoing value to healthcare organizations.
The presentation, ideal for Peer Reviewers, Medical Directors, Healthcare Executives, and those working in the Case Management and Utilization Management fields, will also cover specific aspects of Compliance. Learn how to create the foundation of a great Peer Review program as you explore the following:
 Medical Necessity Criteria and Clinical Rationale – The Foundation to a Great Program
 Clinical Documentation – The Importance of Documentation and How to Document Effectively
 Legal Aspects of a Peer Review Program – Gain Valuable Insight into Legal and Compliance Issues
 Effective Communication for Healthcare Providers – Learn the Art of Diplomacy and How it Relates to the Role of Medical Director and/or Peer Reviewer
Inter Rater Reliability, Concordance, and Other Metrics Essential to Creating a Program of Constant Improvement
The Teach, Test, Track Methodology of Improving Performance and Your Peer Review Program
This live event will be hosted by Dr. Kevin Roache, Medical Director for BHM; Angela Puleo, Director of Client Services, BHM; and Reed Klanderud, Sales Director, BHM. Participants will receive a complimentary copy of the training, an on-demand recording of the webinar, and a unique opportunity to bring their questions to the table for the speakers in a 15 minute Q&A that will be hosted at the end of the event.


Click here today to register: http://bhmhealthcaresolutions.enterthemeeting.com/m/3PCZ2B9P