Schedule time with our credentialing experts for details on ways BHM can guide your organization to success. Click here to schedule time with one of our accreditation experts and download our Accreditation Success White Paper here.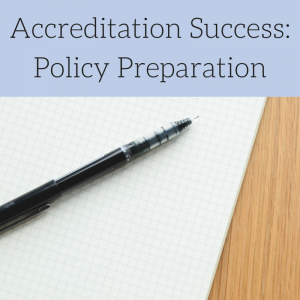 Many organizations struggle with developing policies and procedures. Formatting policies and procedures for accreditation and re-accreditation present special challenges. Policies and procedures form the foundation for a smooth accreditation process and are only the beginning of a longer accreditation journey.
BHM's accreditation consultants are experts in developing award winning policies and procedures. With extensive experience working with many organizations earning URAC, TJC, NCQA and other accreditations, BHM's library of formatted and up-to-date policies and procedures is extensive.
From formatting to documentation, here are some expert tips for developing accreditation policies and procedures.
Standardization and Formatting
Using Standardization and clean consistent formatting in your policies and procedure creates a perfect base for organization, presentation, navigation and updates.
Use standard and consistent templates for all processes
Include a section for definition or have a master list of approved definitions
Include a "space" for accreditation documenting standards or regulations met
Headers should include: Title, Date of initial approval, Dates of all subsequent approvals, Department name
Numbering is optional and can often create confusion down the line if you combine, amend, or retire policies
Use clear and concise digital file names
Development and Documentation
Include a section that clarifies how accreditation policies and procedures are developed within your organization,
Follow the development process from start to finish
Document titles of all personnel who participated
Include the Quality Committee who made final approval
Use strategic writing
Reviews, Approvals and Compliance
Review all policies and procedures annually and document in Policy and Procedure
Ensure a Senior Clinical Staff person is included in the review and approval process
To learn more about this topic and many others, click here to download our Accreditation Success White Paper here, a comprehensive guide to get you started on the road to Accreditation Success!