ehavioral healthcare staff shortages cripple many attempts for improving care. BHM offers a network covering the sub-specialties your organization needs to grow. 6 of the top 10 largest health plans entrust BHM for behavioral health peer reviews. CLICK
HERE
to learn more about how BHM helps your organization curb behavioral health costs.

---
The greatest need for mental health professionals are found in the more populated east coast and remote northern states. Large populations and rural settings significantly impact behavioral health staff shortages. The Health Resources and Services Administration (HRSA) released the most current data. The table shows the 10 states with the worst behavioral health professions clinical coverage, the national average, and the 10 states with the best BH coverage.
The shortages hit providers and payers, alike. Though the data focuses on clinical coverage, payers will find recruitment and retention of behavioral healthcare experts equally troublesome.
HRSA, an agency of the U.S. Department of Health and Human Services, is the primary Federal agency for improving health care to people who are geographically isolated, economically or medically vulnerable. HRSA identified. Kaiser Family Foundation created and interactive resource for Mental Health Care Health Professional Shortage Areas (HPSAs). The KKG.org tool was used to process the data in the following chart.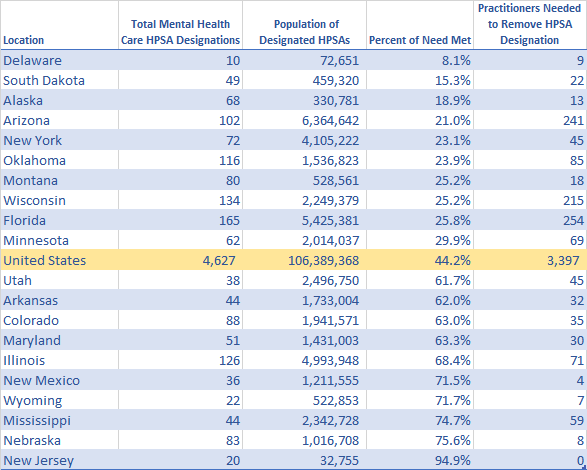 On average, 15% of young children, 2-8 years of age in the United States have a parent-reported mental, behavioral, or developmental disorder (MBDD) diagnosis. The percentage of children with diagnosed MBDDs is similar for small rural and urban areas, at 18.6% and 15.2% respectively.
Behavioral Health Staff Shortages: Rural Gaps
Across the country, people with mental health issues may struggle to get care due to a shortage of providers, and this problem is magnified in rural areas. According to the Health Resources and Services Administration (HRSA), 61% of areas with a behavioral health staff shortages are rural or partially rural.
There is also a gap between the demand for services from child psychiatrists and psychologists and the supply of providers. Experts project that the number of child and adolescent psychiatrists will increase to 8,312 in 2020, but this falls short of the estimated 12,624 needed to meet demand.
Traditionally, rural areas have fewer of these professionals than urban areas. This shortage combined with the unique socioeconomic and cultural factors associated with rural residence, including higher poverty rates and geographic isolation, make it more challenging for rural children to access behavioral health services.

In the end, the national shortage of BH staff is about 3,400 clinical professionals. How is your organization's retention and recruitment for one of the fastest growing area for claims and care?
Behavioral healthcare staff shortages cripple many attempts for improving care. BHM offers a network covering the sub-specialties your organization needs to grow. 6 of the top 10 largest health plans entrust BHM for behavioral health peer reviews. CLICK HERE to learn more about how BHM helps your organization curb behavioral health costs.