Cutting Edge Peer Review Technology that is Safe, Secure, and Efficient.
Not all technology is created equal.  BHM's proprietary PRS Portal® offers the most technologically advanced automated peer review solution in the industry for hospital, provider, and payer organizations.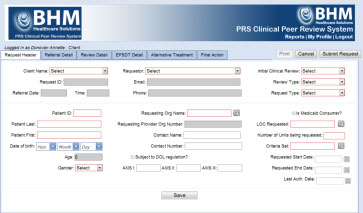 Interested in learning more about our Peer Review Technology? View the system live with a free demo to see if our solution is a match for your needs.


BHM's PRS Portal® Offers:
A plug and play peer review solution that is simple and effective
Volume enhancements to accommodate any capacity
Full report functionality to provide your team with the information you need at your fingertips
An error-proof entry system that can help you decrease denials and delays
Embedded efficiencies and automation to cut down on manual entry and create a lean process
LOC and Criteria Set fields, which are customized for the unique needs of each of our clients
Automated status reminders and correspondence
Case specific communication
Electronic interface and file generation for easy incorporation into electronic medical records or organizational files
Full HIPAA compliance, and the highest possible security standards
A dedicated BHM server with guaranteed up time and disaster capabilities to ensure you that you are covered, no matter what the circumstances
Dedicated dashboards for medical and behavioral specialties – providing flexibility and adaptability like no other provider
Maintenance of the highest quality standards as evidenced by URAC Independent Review Organization Comprehensive Accreditation
Learn How You Can Boost Profitability by Using Medical Necessity Criteria With This Expert Presentation!