BHM has solid experience and top level experts who understand the importance of the transition to value based reimbursement. Click here to find out more about how BHM can assist your organization.

---
Value-based care reimbursement models (VBR) are becoming a popular choice for many healthcare providers and payers, as fee-for-service, (and traditional incentive based payment models), are phased out. According to a recent McKesson survey "Journey to Value: The State of Value-Based Reimbursement in 2016," 58% of payers and hospitals are planning to adopt value-based care reimbursement models.
The rapid growth in VBR make this an important time for organizations who are still using traditional payment models to think about switching to VBR methods. Designed to help reduce costs and improve care outcomes, VBR focuses on quality thresholds in addition to keeping costs low. This is a far cry from fee-for-service models, which give incentives to providers for performing a certain number of services. By tying together quality and cost, VBR creates a new way of encouraging providers to give the highest quality of care at the lowest possible cost.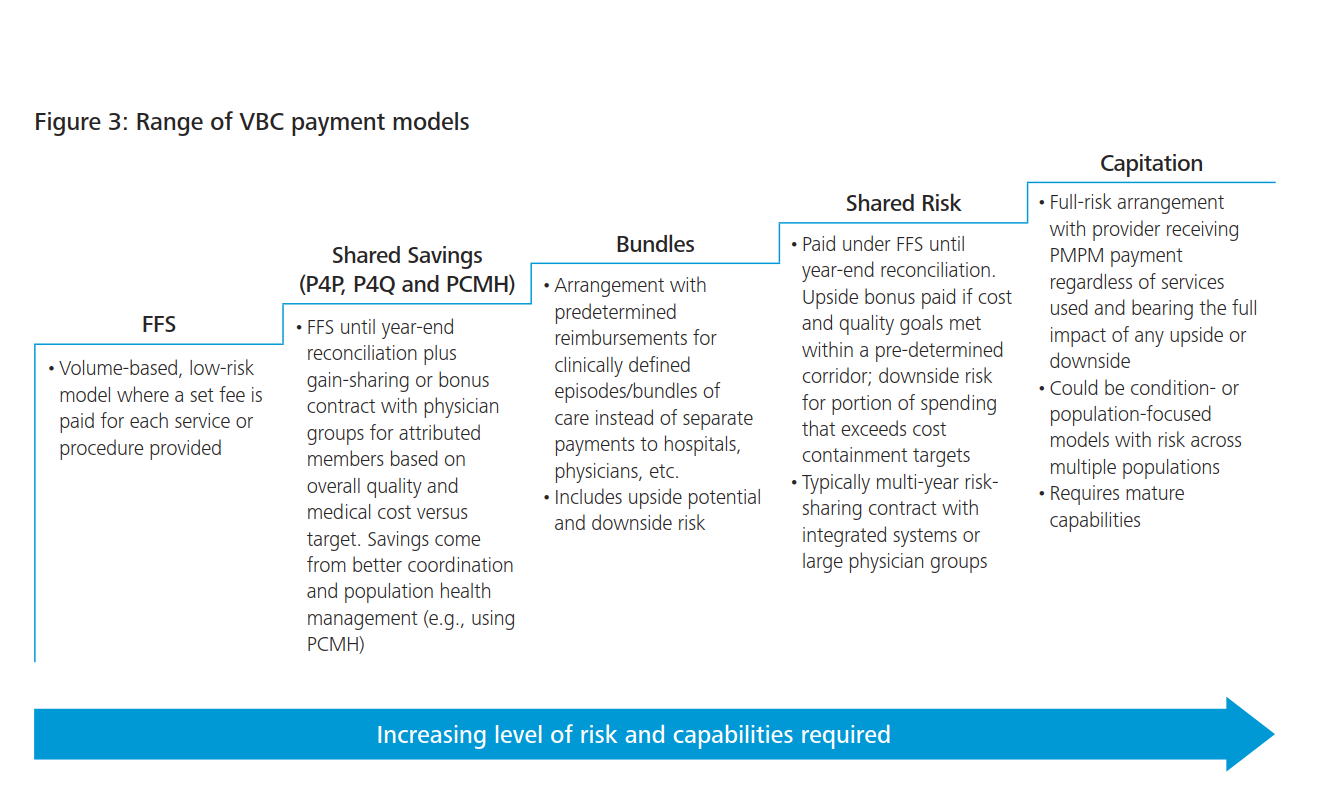 The recent McKesson study included 115 payers across a range of organization sizes (Managed Medicare, Managed Medicaid, commercially focused) and geographic locations. The study also included 350 hospitals representing a similar range of sizes and locations.
Findings of the McKesson
Payers are estimating that 60% of payments will be tied to a combination of capitation/global payment, pay for performance, and bundled payment within five years
Bundled payments are the fastest growing VBR option and expected to grow 6% over 5 years according to health plans
Capitation/global payment and shared risk take second and third place in the growth
It's estimated that bundled payments are going to top 17% of medical payment within 5 years for hospitals and payers
Only 50% of payers and 40% of providers are ready to implement bundles
But while these numbers are growing, the last one does show that many payers and providers are struggling with the change. Because of the rapid growth of VBR and the general complexity of the new systems, McKesson reports that only about "22% of hospitals are meeting their goal to reduce administrative cost of care, only 26% are meeting goals to lower healthcare costs, just 30% are meeting care coordination goals, and 40% are meeting goals for improving patient outcomes."
Tips for Switching to a VBR Model
In order to fully embrace VBR models, payers and providers will need to restructure and revolutionize the way they do business. From reviewing internal processing to embracing population health data, a transition to VBR mean looking deep within the way your organization runs.
Review and revise your strategic plan to fit VBR methods.
Collaborate with external providers or payers to help make the exchange of information and data easier.
Payers will need to focus on Population Health.
Think about how infrastructure will be affected by new care delivery models.
Evaluate clinical processes for efficiency.
Embrace clinical decision support tools to "enhance decision-making in the clinical workflow."
Provide training at all levels of your organization to ensure every team member is on board and ready for the change.
Implement and track quality measures to gain sophisticated and meaningful data.