---
Autism care costs balance in the middle of many competing issues and agendas leaving payers, providers, and consumers trying to sort out the facts from fictions. The size of the funding pie "…over the next 10 years [is] about a half a million youth with autism spectrum disorder (ASD) will enter adulthood. The majority of the costs in the U.S. health care systems for ASD are directed at the adult population: $175 to $196 billion for adults compared to $61 to $66 billion for children." writes Monica Oss, CEO, Open Minds.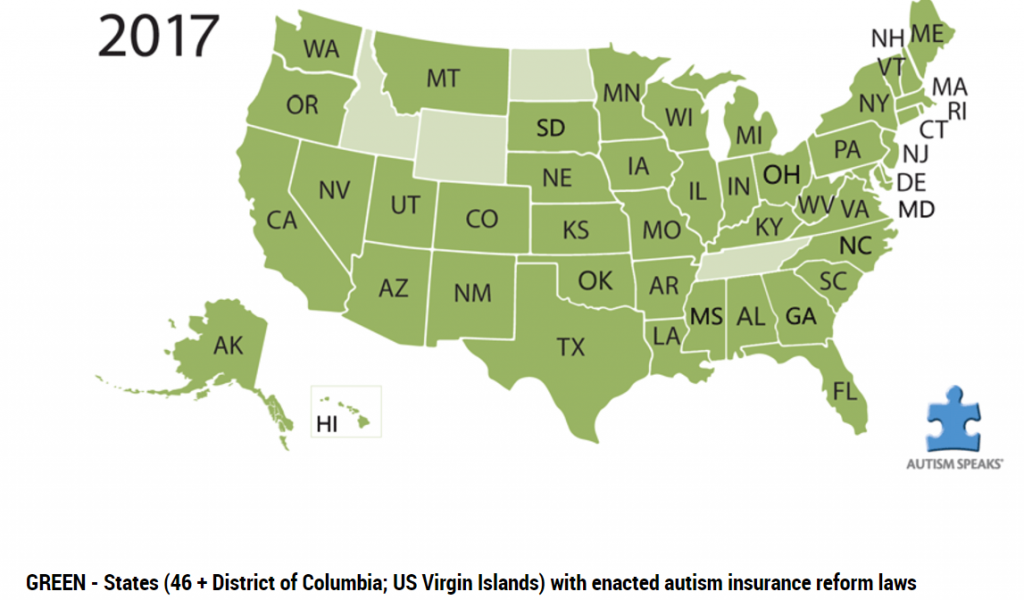 Medicaid funding play crucial roles in ABA coverage. The AHCA and ACA discussions now hold Medicaid program funding as a bargaining chip in the larger healthcare debate.
State Houses continue pushing legislation through adjusting coverage mandates and Medicaid allocations. North Dakota was the latest. "The North Dakota Department of Human Services announced the Centers for Medicare and Medicaid Services (CMS) has approved its Medicaid State Plan to provide coverage for Applied Behavior Analysis (ABA) services to qualifying individuals from infancy to age 21 diagnosed with an autism spectrum disorder (ASD)." as reported the Minot Daily News.
"ABA approved services include program oversight and skills training for individuals with an ASD and their caregivers. Originally, these services were covered under the state's Autism Spectrum Disorder Medicaid Waiver and were available only to children age seven and younger. Individuals receiving these services will now have their coverage transition to Medicaid's Early and Periodic Screening, Diagnostic and Treatment (EPSDT) benefit."
Autism Care Costs
The California state study, funded by Autism Speaks and the National Institute for Occupational Safety and Health.
Most expensive services
Across all age groups, the analysis identified the most expensive services provided to many, though certainly not all, adults with autism. These included:
Community care (live-in) facilities, at an average of $43,867 per person per year.
Day-care programs, at an average of $11,244 per person per year.
Out-of-home respite, at $5,268 per person per year
Employment support, at $4,957 per person per year
In-home respite, at $3,059 per person per year
In addition, a catch-all category of support services averaged out at $13,517 per person per year. It included 18 categories of spending including crisis intervention, behavior management and home health agency services.
For the United States, "Mean costs for the 859,000 children with autism range from $55,944 to $93,196 per child, while mean costs per year for the 2.8 million adults with autism were $50,320 to $88,026 per adult – and this estimate of autism spending does take into account special education funding." reports Athena Mandros, Market Intelligence Manager, Open Minds.
And the numbers indicate it might be a bigger issue than anyone ever realized. Under the American Health Care Act, that can lead to big costs. An analysis, by cheatsheet.com, predicts an increase in autism care of 135%.
Autism Coverage Resources
Autism care now sits in the middle of state legislators, US Congress, President Trump, AHCA debates, Medicaid funding, provider standards, and changing insurance coverage, the calm in the eye of the perfect storm. We understand how important it is to have a clear understanding of the insurance laws in each state. This quick reference guide uses clear language to provide the key points, as well as links to the laws exactly as they were drafted by each state's legislature.
Amid the groundswell of support and resulting legislation in recent years for Autism care costs, insurance laws have been enacted that differ widely from state to state in terms of age restrictions, coverage and visitation limits, and even the qualifications that applied behavior analysis (ABA) practitioners must hold in order for their services to be reimbursed.
State-by-State Guide to Insurance Laws Governing the Treatment of ASD with Applied Behavior Analysis HERE.
Health plans create best practices and play a key leadership role in behavioral health reforms. BHM systems and processes address the unique challenges with reviewing applied behavior analysis (ABA) claims. Click HERE and discuss how BHM's review network supports payer efforts. 6 of the 10 largest payers use BHM for BH reviews.