Summary: Hospital readmissions are of major concern and a strategic part of the Affordable Care Act as some of the costs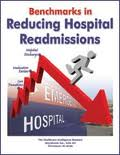 associated are preventable. Why are we focusing on readmissions in particular?
Hospital re-admissions are defined as a patient readmitted within 30 days of discharge to the same or different hospital for certain applicable conditions. Currently, those conditions which are of primary focus for 2013 are:
Acute Myocardial Infarction
Heart failure
Pneumonia
Beginning 2015, The Centers for Medicare and Medicaid Services (CMS) will add additional conditions to the definition of readmissions which are are considered "high cost/high volume conditions".  The likely additions include: Chronic Obstructive Pulmonary Disease, Coronary Artery Bypass Graft Surgery, Percutaneous Transluminal Coronary Angioplasty, and Other Vascular Diseases. So back to our original question, why are we focusing on readmissions? Readmissions are costly, preventable (to a certain extent), specific to Medicare (as this is a Medicare specific initiative) and high in volume.
CMS isn't playing around on this. Penalties will begin to be assessed beginning in 2013. These penalties are capped at the following Medicare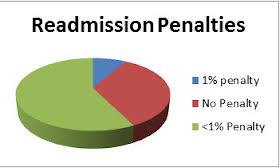 reimbursement rates:
2013 – up to 1%
2014 – up to 2%
2015 and beyond – up to 3%
The estimates expected as of October 2013 are as high as 2000 hospitals will be assessed with penalties which will equate to about $280 million. A 2009 estimate, stated that 20-21% of Medicare patients are
readmitted within 30 days.  As of the last quarter, this has fallen to just above 18%. Now it all makes sense why we need to focus and control readmissions. It boils down to providing quality care and caring for the patient until their care plan warrants their discharge.
What are the most likely patient populations to be re-admitted?
Those with co-morbidity issues
Males
Low-income
Low health literacy
Anyone living in an unstable environment with little to no family/friend support
What sorts of things might cause or increase the likelihood of readmission?
Hospital-acquired infections such as C-Diff
Patients that are discharged too early and therefore are more likely to relapse
Failure to follow up with patient regard medications (Is the patient taking the medication, Is he taking the right dose at the proper intervals, Are there any complications/side effects?
Lack of communication – Is everyone on the same page in regard to treatment and recovery? – (patient, family, caregiver, etc)
Ineffective transition of care to facilities such as nursing homes – not providing all of the necessary information to the nursing home in a timely manner to optimize recovery
What are some of the methods for reducing readmissions?
Making follow up appointments for the patient, rather than leaving it to him to schedule
Provide transportation to facilities such as home health, to ensure the patient reaches his destination and all of the follow up care information is provided
Follow up with patients regarding medication intake – can follow up by phone, email, text or any method mutually agreed upon between the hospital and the patient
Setup discharge clinics – places patients can go to have questions answered specific to their care. These might be setup in pharmacies or like places.
Send teams to patient homes to assess condition/changes in condition/medication management, etc.
Specific follow up with heart failure patients providing education for maintenance and recovery.
Provide nurse based follow up as opposed to physician based as this may provide a different aspect of care, appealing to the compassionate/human side
Understand that the hospital doesn't have sole responsibility for patients once discharged. It is a group effort consisting of the patient, family, friends, neighbors and the entire community.
Readmissions are a big deal. They are very costly. Some of them are preventable. Those that are related to heart failure, heart attack and pneumonia will now carry a financial penalty in the form of Medicare reimbursement. What are you doing to reduce readmissions?
About BHM Healthcare Solutions
BHM is a healthcare management consulting firm whose specialty is optimizing profitability while improving care in a variety of health care settings. BHM has worked both nationally and internationally with managed care organizations, providers, hospitals, and insurers. In addition to this BHM offers a wide breadth of services ranging including managed care consulting, strategic planning and organizational analysis, accreditation consulting, healthcare financial analysis, physician advisor/peer review, and organizational development.
Call us: 1-888-831-1171
Email us: results@bhmpc.com
Follow us on Facebook: