Summary: Hospital charges for the same services can vary greatly from hospital to hospital. The Department of Health and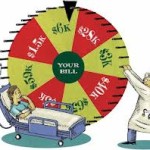 Human Services(HHS) and the Centers for Medicaid and Medicare (CMS) have created a database making some of these charges available to the public.
Hospital charges are currently like a dart board. Throw the dart and see what you will pay. The variation goes beyond differences in location such as a rural hospital in Minnesota as compared to a healthcare system in New York City. You would expect to see a difference just based on the cost of living between these two areas.
Below are some examples of just how much variation there is:
Joint replacement in Ada Oklahoma                                                                        $5,300
Joint replacement in Monterey Park California                                                     $223,000
Joint replacement Sky Ridge Medical Center in Lone Tree                                 $84,000
Joint replacement Denver Health                                                                             $46,000
Lung blood clot treatment Beth Israel New York City                                          $51,580
Lung blood clot treatment NYU Hospital Center                                                  $29,869
Lung blood clot treatment Mayo Clinic Minnesota                                               $16,861
Simple Pneumonia Surburban Hospital Bethesda Maryland                             $5,284
Simple Pneumonia Hahnemann University Hospital Philadelphia                  $79,365
Part of President Obama's Healthcare Reform is to provide more transparent. As such HHS and CMS have created a database to make some of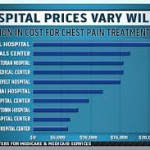 this information available to the public. This information is good to have but will not really be an apples to apples comparison. Factors which may not be obtained from the data include variations in demographics and the risk levels of the particular population. This can serve as more of a ballpark figure. In the examples listed above, all things being equal, where would you choose to have these procedures done?
The other important thing to note is these are "charges". This is basically the initial offer. These rates are negotiated down through discounts with insurance companies and Medicare. So, these may not be what the patient would truly pay. There is also room for negotiation with those that are uninsured.
It will be interesting to see how hospitals respond and how they will rationalize the charges they have set as compared to their competitors. There will be quite a lot of scrambling going on.
What are your thoughts on these wide variations in charges for the same procedure? Why do they vary even within the same city which would have similar populations? Will making some of these charges available to the public help or will they cause more confusion?
About BHM Healthcare Solutions
BHM is a healthcare management consulting firm whose specialty is optimizing profitability while improving care in a variety of health care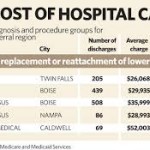 settings. BHM has worked both nationally and internationally with managed care organizations, providers, hospitals, and insurers. In addition to this BHM offers a wide breadth of services ranging including managed care consulting, strategic planning and organizational analysis, accreditation consulting, healthcare financial analysis, physician advisor/peer review, and organizational development.
Contact Us :  results@bhmpc.com, 1-888-831-1171
Follow us on Facebook: