Physician Prescribed Care
There is most often not one singular course of treatment for a patient that offers a clearly superior outcome, but a variety of treatment choices each with their own advantages and disadvantages.  However, until now, care has been prescriptive rather than interactive.  A patient would typically present with a healthcare issue, the physician would provide a diagnosis and assign a treatment plan, case closed.  Furthermore, there is evidence that may suggest that when it comes to making appropriate decisions regarding their care, and what choices may be available, most patients may be uninformed.
 A recent study highlighted in The Journal of New England Medicine entitled "Shared Decision Making to Improve Care and Reduce Costs" indicated that "of more than 1000 office visits in which more than 3500 medical decisions were made, less than 10% of the decisions met the minimum standards for informed decision making.  Similarly, a study showed that only 41% of Medicare patients believed that their treatment reflected their preference for palliative care over more aggressive interventions."
In fact, most experts agree that there should be an increased movement toward shared decision making.  Benefits of shared decision making are:

How The Affordable Care Act Comes Into Play
Section 3506 of the Affordable Care Act directly relates to Shared Decision Making.  Specifically it would offer funding resources to an independant organization to develop standards for Shared Decision Making, and tools to assist in the implementation of Shared Decision Making.  Additional funding in the form of grants may be available to providers who are willing and able to show effective implementation of these tools in the practice setting.  Finally, there is authorization from the Center of Medicaid and Medicare to begin testing the impact of Shared Decision Making Models across metrics that take into account both cost, quality and satisfaction.
Studies Show that Patients Have a Preference for Shared Decision Making
With the benefits extolled by a variety of groups, and patients hoping to gain greater control over their care in the era of ACOs, and MCOs shared decision making could be an important tool in increasing satisfaction, and decreasing the feeling of little to no personal control over healthcare decisions.  In a study conducted by the Group Health Cooperative in 2011, patients were asked the question:
How important is it that provider make programs like this (shared decision making) available?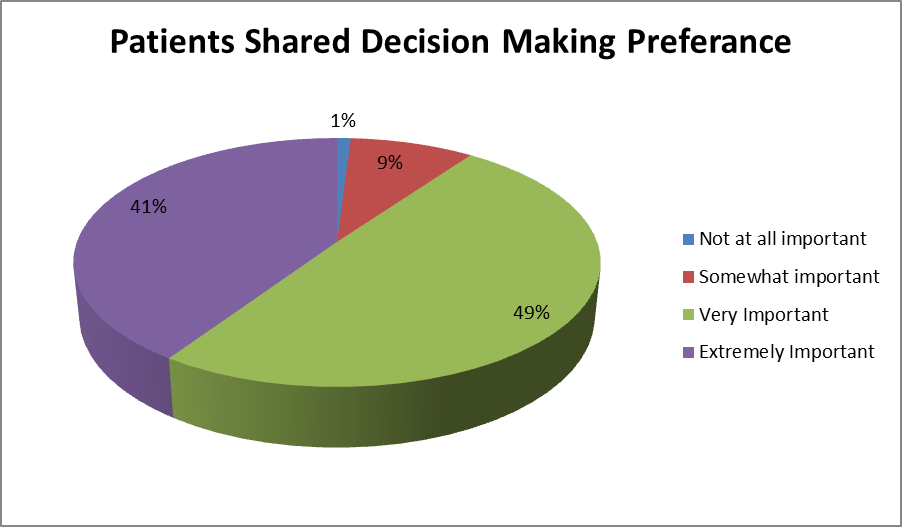 Identifying the Obstacles
So, we have patients that appear to be wholly in support of shared decision making, a governmental environment that is ripe for shared decision making implementation and funding of shared decision making tools and standards…..what is the obstacle to implementation?  The answer is simple, overstretched physician resources and lack of a formalized system to track and document the process.  In a recent post on the MediMedia Sponsored Managed Care Magazine Blog it was stated that
"physicians are too overwhelmed to introduce shared decision making to patients"

"physicians are already overworked and have insufficient training to make shared decision making work"
"information systems cannot prompt or track patients through the decision-making process"; and
"adding any new process to a physicians office workflow will be a challenge"
Despite these barriers Shared Decision Making is a Trend that will continue to gain in popularity and momentum, and those early adopters who will be shaping the processes, protocol, and adoption strategies may have a strategic healthcare advantage in shaping the movement and reaping the rewards.