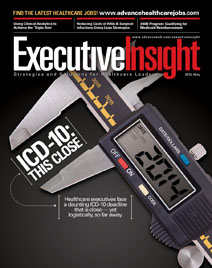 BHM Healthcare Solutions was pleased to contribute an article entitled "Understanding the Financial Ramifications" in this months edition of Executive Insight Magazine.  The article which was co-authored by myself and Dr. Ken Hopper is available online here,  via a free digital edition.  This is a must read publication for anyone who wants to know how ICD-10 will impact their organization or practice, with topical articles that examine the issue from multiple perspectives.
In addition to this, Executive Insight Magazine offers a host of complimentary web tools that align with this months ICD-10 topic.  These include tips, webinars, and informational write ups that can only be found online.  One of the most beneficial of these offerings is a piece entitled "Six Building Blocks for Successful ICD-10 Implementation" which is a transcript of CEO of Care Communications Leslie Ann Fox and President of Care Communications Patty Thiery Sheridan who break down the foundational necessities of ICD-10 Implementation.
We are excited to check out all of the amazing features in this months edition of the magazine, and encourage our readers to take a look as well.  Happy reading!