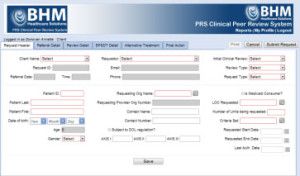 BHM Healthcare Solutions, a healthcare consulting firm first introduced in August 2011 the Peer Review System (PRS) Portal, an easy to use, automated peer review system that ensures an efficient and effective review process.  Since then, the portal has received rave reviews for its user- friendly functionality, and ease of use.  In an effort to make the system even more responsive, a new enhancement to the system was rolled out in January 2014 which will effectively eliminate duplicate entries, decrease administrative time needed to enter reviews, and provide fast, effective processing when review types change.
The PRS Portal was designed to provide an automated solution for the provision of peer reviews, including both standard and expedited reviews, across a broad range of review types, as part of BHM's Independent Review Organization service line.  The latest enhancement focuses upon an improved copy function which allows users to forgo the necessity to re-enter information if a review type changes.  Users now have the capability to copy all information from a previously submitted review, including the dynamic ability to add new information to the file if needed, and resubmit without creating a new submission.  This enhancement is already showing dramatically increased entry time for reviews, and eliminates a manual double entry process.
"We are excited to be providing this system update for our clients," stated Mike Forrester, SVP, IRO Division, "More importantly, this enhancement is a direct result of BHM listening to our users, and responding to their needs.  The enhancement was made utilizing the direct input and feedback of BHM's users, and BHM is pleased to be able to provide ongoing system enhancements that support   client's efforts and are responsive to their individual requests within our system."
BHM expects the new system enhancements to continue to allow for the provision of physician peer reviews in a manner which will continue to sustain the organization's 100% client satisfaction rating, the highest client satisfaction rating in the IRO industry.  Leaders in the PRS Portal redesign included BHM's Brian Johnson, Chief Technology Officer, Mike Forrester, SVP IRO Division, Annette Donovan, Manager of IRO Services.
According to BHM's President, Mark Rosenberg "Our goal in the redesign was to really make improvements that would have a dramatic positive impact for our clients, and were based on system user feedback.  We strive toward continually improving and optimizing our service offerings and feel that this enhancement is a great compliment to our efforts.  We are excited about the responses that we have already received from our clients, and are proud to be meeting their independent review organization needs by providing the latest in physician advisor peer review technology."
To learn more about BHMs top rated Peer Review Services, or to request a demo of the BHM Peer Review System Portal click below: