Why Quality Improvement Programs Are Essential For Today's Organizations
Recently, we looked at how the Affordable Care Act and pay-for-performance are driving healthcare organizations across the nation to institute Quality Improvement (QI) programs. Today, let's examine some of the basic elements and advantages of an effective Quality Improvement Program implementation.
What is a Quality Improvement Program?
The Health Resources and Services Administration (HRSA) offers the following explanation of QI:
A QI program involves systematic activities that are organized and implemented by an organization to monitor, assess, and improve its quality of health care. The activities are cyclical so that an organization continues to seek higher levels of performance to optimize its care for the patients it serves, while striving for continuous improvement. A QI program typically envelops all QI activities within an organization. Clinically-related QI initiatives and activities to improve an organization's operations and finance are common examples.
Why is a Quality Improvement Program essential?
Organizations that implement Quality Improvement Programs typically experience a range of benefits:
Improved patient health (clinical) outcomes that involve both process outcomes (e.g., provide recommended screenings) and health outcomes (e.g., decreased morbidity and mortality).
Improved efficiency of managerial and clinical processes. By improving processes and outcomes relevant to high-priority health needs, an organization reduces waste and costs associated with system failures and redundancy. Often QI processes are budget-neutral, where the costs to make the changes are offset by the cost savings incurred.
Avoided costs associated with process failures, errors, and poor outcomes. Costs are incurred when nonstandard and inefficient systems increase errors and cause rework. Streamlined and reliable processes are less expensive to maintain.
Proactive processes that recognize and solve problems before they occur ensure that systems of care are reliable and predictable. A culture of improvement frequently develops in an organization that is committed to quality, because errors are reported and addressed.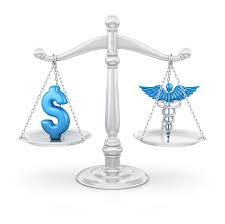 When an organization implements an effective Quality Improvement Program, the result can be a balance of quality, efficiency, and profitability.
Measuring performance
To effectively improve quality, it is imperative that you develop effective qualitative performance measurement standards.  HRSA defines performance measurement as is the regular collection of data to assess whether the correct processes are being performed and desired results are being achieved.
Why Measure Performance?
There are many reasons for an organization to measure performance through a quality improvement program:
Quality Improvement. Measuring performance can tell you what you're doing well, so you can share your successes and also reveal areas where you need to make adjustments.  Measuring performance tells you whether you are achieving your ultimate goal of improving patient outcomes.
Transparency. Stakeholders outside of the organization–patients, funders, patient advocates–want to know about the quality of care being provided. Patients want information that allows them to make informed choices about their health care services. Sharing performance information can also help an organization gain support and funding for its programs.
Accreditation. Organizations, such as NCQA, the Joint Commission, and the Accreditation Association for Ambulatory Health Care (AAAHC), evaluate health care provider organizations to provide accreditation or certification signifying that those places meet certain performance standards.
Recognition as a Patient Centered Medical Home (PCMH). A Patient Centered Medical Home (sometimes known as a Primary Care Medical Home) is defined as "an approach to providing comprehensive primary care… that facilitates partnerships between individual patients, and their personal physicians, and when appropriate, the patient's family. NCQA, the Joint Commission, and AAAHC offer accreditation programs for recognition as a Patient Centered Medical Home.
Participation in financial incentive programs or demonstrations. For example, The Centers for Medicare and Medicaid Electronic Health Record Incentive Programs provide incentive payments to eligible professionals, eligible hospitals and critical access hospitals (CAHs) as they adopt, implement, upgrade or demonstrate meaningful use of certified Electronic Health Records (EHR) technology. Eligible professionals and hospitals who participate in the program must be able to record, store, and report clinical quality measures (CQM), which CMS defines as the processes, experience, and/or outcomes of patient care, observations or treatment that relate to one or more quality aims for health care such as effective, safe, efficient, patient-centered, equitable, and timely care.
How can we better manage performance?
After measuring performance, the next step is to use the information to improve care. Performance measures provide a picture of your organization's quality, but further research will be necessary to determine the factors that influence the measure results and how you can learn from positive results and make changes where performance is not at an optimal level.
Like to know more about quality improvement programs?
Quality improvement programs are a crucial element in the success of your healthcare organization, and BHM is pleased to assist healthcare organizations by providing quality improvement program assistance. BHM offers the expertise you need to achieve better outcomes at lower costs. Contact us today to find out how BHM's proven strategies can work for you.  Learn more here, or click below for a complimentary consultation.