Summary: The healthcare industry is transforming from fee-for-service to value-based payment systems. One of the fairly new forms of reimbursement to hit the streets is bundled payments.
Overview of Bundled Payments
The Medicare reimbursement system is in the process of transforming healthcare as we know it from a traditional fee-for-service model to a system that rewards based on quality, care coordination, accountability, and healthcare cost savings.
The Affordable Care Act sets forth bundled payments as part of the quest to provide quality healthcare.  The days when compensation was linked to volume and quantity are going by the waste side. One of the newer payment systems is called Bundled Payments. The premise is to pay for an episode of care collectively as opposed to billing for each individual service separately.  An example is a surgical procedure. Rather than each provider submitting multiple claims, one claim is submitted for the entire procedure. Reimbursement is shared among the participating providers.
Bundled Payments – Benefits
While bundled payments are still being piloted, there are inherent benefits to a bundling system:
Reward providers for improving coordination of care
Reward providers for improving efficiency of care
Reward providers for improving quality of care as opposed to quantity of care
Reduce healthcare spending
Increase provider accountability
Strengthen physician/hospital relationships
Participate in Medicare gainsharing programs
Reduce readmissions
Improve patient outcomes
Bundled Payments – Risks
While the benefits are many, no payment system is perfect. Certain risks also come to the forefront:
Financial Risk

– Services are rendered at a discount to Medicare beneficiaries with the hope that cost savings will achieved. If cost savings is not achieved, the participating providers will share in the loss.

Design Risk

– Providers must design bundled payment plans based upon historical Medicare cost data. The idea is to create a system that will reward physicians for performance. If the bundles aren't priced appropriately or do not produce cost savings, the providers could experience losses.

Operational Risk

– There are certain protocols and systems that need to be put in place in order to participate in these potential gainsharing pilots. These include the standardization of processes across all aspects of care. The failure to adhere to these standards can result in a loss to the providers.
Bundled Payment Models
The Centers for Medicare & Medicaid Services (CMS) has been tasked with implementing a pilot program, in which organizations can voluntarily choose to participate. Currently, there are 4 main models aimed to test different stages of services ranging from inpatient to post-acute care and from retrospective to prospective reimbursement.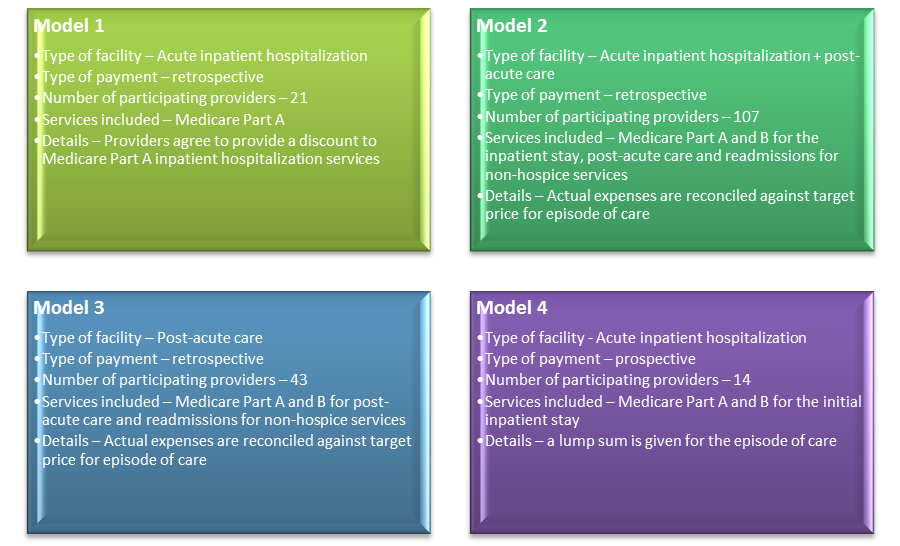 The transition away from a traditional fee-for-service payment system to models that reward for quality and value can be a daunting task. BHM Healthcare Solutions is a full service healthcare consulting firm, with one of our areas of expertise being optimizing reimbursement. Please review our healthcare financial analysis page to see how we can best assist your organization.
BHM Healthcare Solutions – www.bhmpc.com
Call us: 1-888-831-1171
Email us: results@bhmpc.com
Click below to request a complimentary consultation or a proposal!