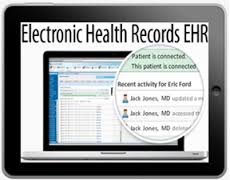 Lately there have been a number of changes in the healthcare industry that are targeted to provide quality healthcare to patients. Adapting to these changes is critical to the viability and profitability of your medical practice. Successful EHR implementation is critical to an organization's success. Below is a 3 step process to put you on the right track to achieving a successful EHR implementation.
EHR Implementation | Implement Electronic Health Record (EHR) System
If you haven't adopted the electronic health record system, then now is the final call to do it. The government has announced July 1, 2014 deadline for physicians to implement EHR system or they will penalized beginning in 2015.
Through implementation of electronic health records, physicians will be able to have complete access to comprehensive and accurate information, which will enable them to provide improved and quality medical care to patients. According to government statistics, providers using the EHR system have reported:
94% physicians said with EHR patient records are available every time
88% report EHR benefits clinical procedures of practice
75% providers reported improved patient care
With the help of EHR, physicians are able to reduce errors while recording information and improve patient care. In a government certified EHR system, a record of patient's complete medical history – allergies, disease in family, prior surgeries etc. are recorded. This information comes in especially critical in times of emergency situations, in which every moment counts.
EHR Implementation | Create Workflow to Fully Implement Meaningful Use Program
After implementing the electronic health record system, physicians need to modify their practice workflow to meet the demands of the IT system. The new workflow will allow nurses to save time on paper work and other administrative duties and spend more time with patients and attending to their needs.
By adopting a complete Meaningful Use program, physicians can engage patients by encouraging them to take responsibility of their healthcare. Through patient portal, they can keep in touch with their health records and increase their efforts to maintain a healthy lifestyle. EHR also enables the administrative staff of practice to bring efficiency in the billing process, while cutting down time.
EHR Implementation | Train Your Staff
While implementing the electronic health record system, it is necessary that the clinical and non-clinical staff are completely trained to utilize the system to maximum. The workings of staff make a huge impact on the practice. Patients are your practice's customers who should be provided with best care and service. The first point of interaction between your staff and patient is at the front desk. The staff at the front desk should be trained in recording accurate patient information. This information will be used by the physicians and the billing staff. Therefore, it is suggested that either the staff should be trained in using EHR system or such a staff should be hired who is familiar with healthcare business.
Physicians need to make efforts in improving their medical practice and implement technology, so that they can better care for the patients.
About the Author:
Nina Keller writes about different issues in the Health IT industry. Her areas of interest include Affordable Care Act, EHR System, Meaningful Use, Revenue Cycle Management, and privacy and security of patient health data. I frequently write about these issues for various blogs. I tweet at @Nina29979