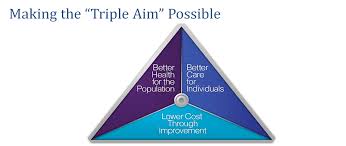 Triple Aim 101
You'll recall that the Centers for Medicare and Medicaid has adopted the concept of The Triple Aim to serve as a guiding light for healthcare organizations to improve patient outcome measures. The Triple Aim has three interlocking components:
1. Improving the patient experience of care (patient satisfaction)
2. Improving the health of populations
3. Reducing the per capita cost of healthcare
It probably seems fairly intuitive that these three measures would be theoretically connected. If you can improve patient health at a population level, you'll reduce the need for costly and often unnecessary services; and if you achieve positive patient outcome measures, you'll be reducing readmissions. This equals reduced cost.
In order for this trifecta to work, however, hospitals need to embrace the goal of the Triple Aim and incorporate the outcomes measures into their workflows. One way that hospitals will be doing this in the next couple of years is through Telehealth.
Telehealth: The New Frontier of Medicine?
Gone are the days when healthcare organizations can deny the presence of Telehealth in their hospitals and physician offices. Now more than ever, the internet, smartphones and video conferencing are changing the ways in which patients and doctors interact. Right on the heels of the electronic medical record, many hospitals now offer patient portals so that their patients can access their records anytime, anywhere with the click of a button. Some include messaging capabilities so that they can send a secure message to their doctor's office regarding everything from appointment making to prescription refills. Health information, in broader terms, is readily available with little more than a cursory Google search – patients are becoming more and more inquisitive about the care they receive because they have access to more research, databases and definitions than ever before – not to mention congregations of patients in online support groups who can share stories, experiences and recommendations from anywhere in the world.
Tracking Population Health
When it comes to achieving the Triple Aim, Telehealth may not only serve to improve the patient experience – with expanded access to providers – but tracking population health will certainly be easier through Telehealth than more traditional pen-and-paper measures. Computers have the ability to track and analyze more data with a single click then even the most mathematically inclined human could- and while computers are imperfect, they run off algorithms that are more or less immune to human error, meaning that the analysis of year's worth of health data will be accurate and unbiased – two extremely important qualifiers.
Telehealth and Patient Outcomes
A recent survey by HIMSS Analytics reports that half of the healthcare organizations they surveyed were making use of some form of Telehealth. This is more or less in line with the movement from volume-based to value-based care. Using Telehealth, physicians can see more patients – and, keep track of patients who may have scheduling conflicts (either work or family responsibilities) that tend to dissuade them from keeping in-office appointments. Whether they are doing this through secure email or video conferencing, the presence of Telehealth has expanded the opportunities to reach patients who may otherwise be lost to follow up – which not only improve population health, but support improved patient experience. Patients who feel they have more access to their doctors, when they want and need it, would certainly report higher satisfaction with their care than those who feel physician availability is a barrier to treatment.
The Triple Aim and Reducing Cost
As previously mentioned, the interconnectivity of patient satisfaction and population health are the proposed path to reducing per capita healthcare costs. Telehealth, if fully utilized, could bridge the gap not only between patient and physician, but the gap between rural medicine and the more diverse offerings of big city healthcare systems. Again, improving access to care only stands to improve the health of populations, particularly those that have been previously plagued by a combination of poor health outcomes and limited access (i.e. rural areas) and we'll all be able to reap the benefits from that!