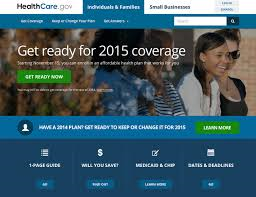 Open enrollment doesn't start for a couple more days, but if you're shopping around the health insurance marketplace, you know that the "window shopping" phase of enrollment has already begun. If you remember the marketplace 1.0 fiasco from last year, and are hesitant to give the new and improved page a go, here's a rundown of what you can expect when you head over to sign up.
If you come to the marketplace with coverage from last year that you're looking to extend, the task is easy enough thanks to crisp, clean menus on healthcare.gov's homepage.
If you're new to the exchange, here are some key considerations for open enrollment:
The plans you have available to you cover preventative care, pre-existing conditions and essential health coverage, like childbirth prescription drugs and emergency services.
In some states, programs like Medicaid and CHIP, which provide coverage to low-income families who can't afford premiums required by private plans, are expanding to cover even more people.
If you don't have coverage, you'll have to pay a penalty. It could be as much as $325 for each adult, or, 2% of your income – whichever is higher.
If you're insured through your job, that counts as coverage – but you can still explore what the healthcare exchange has to offer because it could actually save you money.
It's worth popping your info in and seeing if you qualify for an exemption.
You can still buy coverage from somewhere outside the marketplace and be covered, but you won't qualify for tax credits.
The Open Enrollment Process
When healthcare.gov first went live, there were a lot of problems with how the website was designed. This time around, things have improved immensely. A new cleaner, more responsive design has made it easier than ever to navigate the site's wealth of information and input all the necessary data about your socioeconomic situation to figure out what plan is best for you. If you aren't sure what your best coverage option is, there's even a feature where you can compare multiple plans side-by-side. This is a great feature, especially for first-time enrollees who may not know how to get the most "bang for their buck" when it comes to choosing insurance.
You can look at monthly premiums, deductibles, your out-of-pocket costs and what the benefits with each plan are before you decide to commit to one. Healthcare.gov gives you an ongoing checklist so you can make sure you've considered all your options before you enroll. It also keeps track and saves each step of the way so you don't have to back-peddle to fill in information each time you log in – it remembers what you've input and allows you to make edits if things have changed since you first registered (like, if you've had a baby or your income has changed). The essential benefits for each plan are the same, and you can opt in to other additional plans like dental and vision. For the ease of comparing levels of coverage, healthcare.gov has created four levels: bronze, silver, gold and platinum. These levels don't refer to the benefits covered, but the amount of cost covered by the plan. Bronze covers 60% of the total average costs of care, Silver covers 70% of the total average costs of care, Gold covers 80% of the total average costs of care and Platinum covers 90% of the total average costs of care. The higher the premium, the lower your out-of-pocket costs. Some people may opt for coverage that's even lower than 60% – these baseline coverage plans are called "catastrophic" insurance.
When comparing plans, they even give you an idea of how much common conditions or medical situations would cost under that plan's coverage, as well as care plans for chronic conditions. This is a valuable tool and incorporates the concept of the patient-centered medical home. In addition, the side-by-side comparison will tell you if other programs and services, like acupuncture, would be covered under the plan.
If you want coverage for 2015, open enrollment begins November 15th and stays open until December 15th – your previous marketplace coverage will end December 31st, which means if you don't enroll during that time period, you won't be covered by the first of the year. The last possible day to enroll for 2015 coverage through the marketplace is February 15th, 2015. Of course, if something changes in, say, March of 2015 and you suddenly need coverage, you may qualify for a Special Enrollment Period. These are available to individuals who have a change in job or coverage status with their current insurance plan and need to make sure they don't have too wide a gap in coverage while they're between employers or other qualifying "life events."
For Medicaid, CHIP and SHOP, you can apply any time of year for coverage, either as an individual or a small business.
And, of course, if you still have questions healthcare.gov boasts a robust Q & A page, as well as online technical support and an appendix of community and local resources for your area.