A recent study showed that for the 10th year in a row, financial challenges are #1 on hospital CEOs list of concerns. More than healthcare reform, government mandates, and patient safety, the constant battle to be financially stable is the what keeps the healthcare C-suite up at night.
So what factors are contributing the the financial worries? Let's take a look.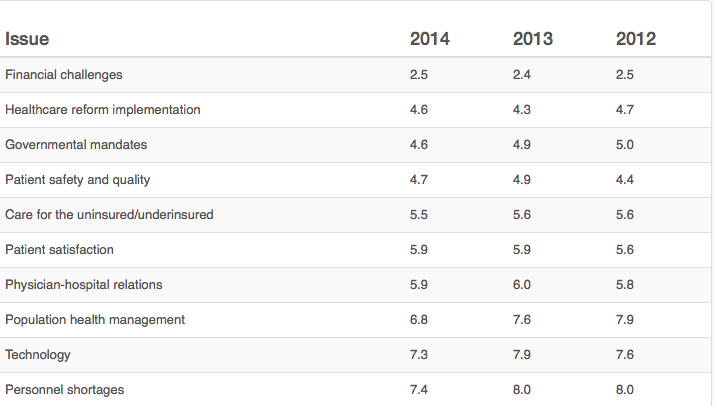 1. Government Funding Cuts
Recent reductions in government funding for hospitals means the gap between care delivered and payment received has grown larger over recent years. Plus, with Medicare and Medicaid, retroactive reductions have increased more than payment delivery. This unpredictability, in combination with sequestration in recent years, has made it harder than ever for hospitals to keep their heads above the water.
2. Value-Based Care
As the shift toward value-based care continues, better care is expected to be delivered for lower costs. It's even gotten to the point where penalties are ensuing for high readmission rates and slow recoveries. Unless hospital CEOs can pull together it's physician team and figure out a strategy to for value-based care that really works–they could be in hot water.
3. High-Deductible Health Plans
Not only do high-deductible health plans mean a longer payment processing time (bills sent, followed up on, check received, etc.), but because patients are now having to pay more out of pocket costs, the volume of patients seeking care has gone down. And collecting payment from the patient can be a much more involved process than working with an insurance provider, too. It requires more man hours and patient follow up–which uses up precious hospital resources.
4. Bad Debt
With the costly nature of hospital equipment and a large facility–hospitals have a lot of debt hanging over their heads before they even begin thinking about paying their staff. As reimbursement slows (or doesn't match up with expected rates), hospitals have to figure out a way to face the debts owned by the business.
Hospital CEOs: Revenue Cycle Rescue
Rejuvenating the revenue cycle is a top priority for hospital CEOs facing the ongoing financial challenges in 2015. So where does one begin?
Improve cash flow with detailed financial analysis
Implement system improvements
Training and workplace culture processes
Decreased claim denials
Working alongside a professional, experienced consulting firm can help navigate that process and offer some outside perspective.
BHM has helped hospitals achieve a 22% increase in cash flow through their detailed analysis.