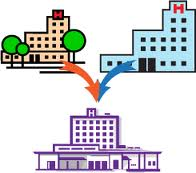 Hospital mergers and acquisitions
[M&A] aren't a new concept, but in the post-Affordable Care Act world they have become a popular solution for yielding to ACA regulations. According to the American Hospital Association's 2015
Environmental Scan
"mergers, consolidations and other partnerships" will increase due to the pressures on hospitals to lower costs and achieve economic goals. Here at BHM we also think that this healthcare trend is one to watch for 2015, so we've pulled together some key insights for you to consider.
Why a Hospital Merger
Hospital mergers come in all shapes and sizes, from joint venture to consolidation. Deals are made for a wide variety of reasons, including extending geographical reach, increasing profit, building strategic partnerships, lowering costs, and streamlining patient coordination. Along with these reasons, a study published by Bass Berry Simms points to another driving force behind M&As; the study reported that 46% of respondents attributed "demand for facility and equipment improvement" as a top driver of M&As. The need for innovation is a necessity these days, whether its software or technology, and it is believed that this need for innovation could continue to be a driving force behind mergers in 2015. Since there's such a vast range of reasons for mergers, no one deal will be the same, however the recent high profile acquisition of the South Shore Group by the Boston-based HealthCare Partner in 2014 sheds light on the benefits and downsides of a big merger in the current market.
Current State | Hospital Mergers
What we can tell from 2014 is that, statistically, merger deals were down at least 13% compared to 2013 (FierceHealth).  But their experts say that doesn't mean that 2015 will be the same, partly due to healthcare reform being a thing of 2014. The Bass Berry Simms report also indicated that 86% of its respondents thought 2015 would have a surge in healthcare and life science M&As. The Affordable Care Act is a definite culprit behind the projected increase in hospital mergers. FierceHealth reported "ACA's transition from fee-for-service reimbursement to population- or disease-based reimbursement has also created opportunities for more growth."
 Moving Forward | Hospitals
Hospitals have been preparing for mergers and acquisitions by conducting in-depth analyses of their own organizations, assessing what they need, and how they might address these needs in order to grow. Ask yourself in what ways a partner could benefit from your organization and research potential partnerships thoroughly before making the leap.  It's also important to understand the setbacks for your organization and patients before jumping into a big merger, for example a non-profit merging with a for-profit could affect shareholders along with patients.
Although a daunting thought, it will be interesting to see how hospital M&As fare in 2015. The key for healthcare providers will be to take small steps and conduct in-depth research. The web has a lot of great resources for those looking to learn about the pitfalls and benefits of mergers and acquisitions.  The white paper  "What Hospital Executives Should be Considering in Hospital M&A" published by Dixon Hughes Goodman LLC, is a great source for statistics and deep insight for those thinking about mergers and acquisitions.
We want to hear from you: What reasons do you think will contribute to the rise of hospital M&As in 2015?