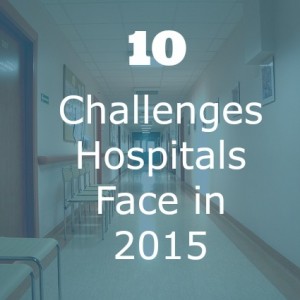 To an onlooker, it's easy to mistake a robust, high-tech hospital as a stable entity; however, hospitals face a myriad of high-pressure challenges. From juggling the changing healthcare system to the source of hospital funding, the obstacles faced by hospitals can be daunting.
In 2015 there are familiar challenges, but many are rooted in the continued growth of technology and healthcare reform. Here's a look at the 10 biggest.
1. IT Overload
Health information technology often takes a large chunk from the budget. Complaints surround electronic medical records and other IT-related areas. And while the advances in technology over the last several decades are positive, there is so much data coming in from new technologies that many smaller institutions have no way process all of the information.
By gathering patient data, the goal should be to use the information to predict what could happen to patients in the future. Nevertheless, without the necessary tools to integrate the data, much of this information is wasted.
2. Keeping Patients Involved in Care
Patients who aren't actively involved in their own care have higher healthcare costs for obvious reasons. Creating a customized level of care sometimes helps patients understand what they have to do to maintain good health, but there are still chronic disease patients who need a level of care they cannot maintain on their own.
3. Healthcare Costs
The cost of care has always been a deterrent for patients. Even though more patients have health insurance now than ever before, they still avoid or delay treatment for as long as possible. This doesn't work well for hospitals or for patients as it often results in longer — and more expensive — hospital stays.
4. Juggling Healthcare Reform
Healthcare reform is constantly on the move. For better or worse, the Affordable Care Act has continued to change things, making compliance even more difficult to manage. The hope is that new patient numbers will increase, not because more people are getting sick but because more patients have access to health care.
5. Physician Shortages
The demand for health care workers continues to grow, especially as more patients acquire health insurance. The shortage of physicians is a very real problem trickling down from a lack of interest from medical students in becoming a primary care provider. More and more medical students end up pursuing subspecialties with higher paychecks. Finding a way to draw more students toward an education in primary care is essential.
6. Patient Safety
It's important to keep communication open between patients and their families and hospital caregivers and administrators. That includes keeping the community up to date with what the hospital is prepared to deal with.
Protecting existing patients from contracting an infection while in the hospital is always a top priority. Other risk factors include power failures, which can damage the quality of care a patient is able to receive and can hurt the hospital's reputation.
In 2014, the Ebola virus outbreak affected multiple countries. Even though the risk of Ebola spreading to the U.S. was low, it was important for the public to know hospitals were prepared for any state-side emergency.
7. Population Health
There are multiple challenges to face regarding population health. It's difficult to find qualified employees, and it's difficult to measure population health. It's suggested hospitals start building community partnerships with other organizations to broaden their ability to reach the public to track quantifiable data.
8. Environmentalism
In addition to maintaining a healthy connection with the community, hospitals must also find innovative ways to reduce damage to the environment. Many healthcare organizations have gone out of their way to explain how they work protect the environment, producing environmental statements like this one. It will be increasingly important as the years pass to stress green initiatives and energy saving plans.
9. Community Outreach
Staying involved in the community increases the reach of the organization, which in turn helps the overall health of the population. Hospitals that offer outreach programs — like mobile clinics for the homeless — are often jointly funded by utilizing affiliates. But funding can be tricky for independent hospitals.
10. Staying Independent or Not
Is it a good idea for hospitals to remain independent? It varies between hospitals and depends on community and market needs. Hospitals that have maintained their independence face the added challenge of maintaining funds through a foundation. That means funds are raised from the community and, in many cases, from the hospital's own employees.
These obstacles provide a starting point for continued growth within our healthcare industry. The expansion of technology and growing understanding of healthcare availability foster the possibility of a rise in patient involvement as hospitals continue to reach out to their communities.
BIO: Adrienne Erin is a freelance writer and designer with a strong interest in the healthcare industry. Follow @foodierx on Twitter or visit her blog to read more of her health commentary or get in touch.