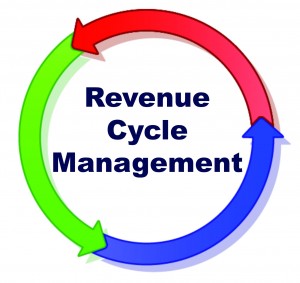 Revenue Cycle Management (RCM) is on the mind of many, if not all, hospital administrators and executives. With the roll out ICD-10 and the changes to reimbursement models, new RCM solutions are becoming critical for hospitals hoping to survive through 2015. Right now, it's the decision of whether or not to seek new RCM solutions that many hospital leaders are grappling with.
The pressure is high, with a reported "61% of hospital CFOs and business managers in struggling hospitals already expecting to be fired by 2016 because their RCM software, staff, and solutions were powerlessly stuck in fee for service mode too long." Many larger more financially stable hospitals are already reaping the rewards of next generation RCM solutions. The question for many hospitals isn't how a RCM revamp can benefit their organization but if the sacrifice is worth it?
RCM Basics
From data collection to debt collection, RCM is at the core of any organization. According to Health IT, revenue cycle management is "the process that manages claims processing, payment and revenue generation. It entails using technology to keep track of the claims process at every point of its life, so the healthcare provider doing the billing can follow the process and address any issues, allowing for a steady stream of revenue." Essentially, it's a process that begins when a patient makes that initial appointment and ends when payment is received.
RCM & Technology
RCM is one administrative section of the healthcare industry that was, until recently, very susceptible to human error.  Technology has now become the driving force behind the latest RCM upgrades, helping to reduce human error and streamline productivity, but it is also the force leaving many hospitals behind. Jay Sultan, strategy consultant at Edifecs, told Becker's Hospital Review that using out dated RCM systems "to add the new data sources and analytics needed to validate inbound revenue in the new healthcare environment" was like "trying to deliver the functionality of a modern EHR using a typewriter."
The problem is, those RCM updates are often easier said than done. In 2014 a Black Book survey reported that "40% of CFOs declare their hospitals so financially stretched due to misjudged EHR, HIE and patient portal expenses, that they are forced to postpone revenue cycle management software transformations until 2016." What we learn from this staggering statistic is that hospital administrators are aware that RCM solutions are the key to organizational survival, but the difficulty for many is financing those new solutions.
Outsourcing RCM
For many hospitals, a solution lies outside of their organization. By outsourcing RCM hospitals are finding they can reap all the benefits of an updated RCM system, without the high costs of upgrading their own. Due the popularity of this RCM alternative, the North American RCM market "is expected to grow at a CAGR of 7.2% from 2014 to 2019."  Outsourcing RCM has had a positive effect on many organizations who have looked to it as solution. According to a the same Black Book poll 83% "of hospitals with more than 200 beds that outsourced all or most of their RCM operations attributed 5.3 percent of their revenue increases to the decision to outsource, while 78 percent of hospitals with less than 200 beds attributed 6.2 percent of their revenue increases to the decision to outsource all or most of their RCM operations." Hospital leaders will definitely want to take a look at the Black Book study, as well as study other hospitals' successes and failures,  to see if their organization could benefit from outsourcing RCM. Outsourcing could definitely become a viable option for many struggling hospitals in 2015.
Putting Off the Upgrade
That's not to say RCM outsourcing is a viable option for every hospital, as some may not be in any position to afford RCM solutions. Joel Gardiner, who is Principal at Deloitte Consulting, told Becker's Hospital Review (in the article "Solving the revenue cycle paradox: What options do struggling hospitals have?") that some financially unstable hospitals may need a more drastic change, hinting that RCM upgrades might not solve their problems. So are there options for those who can't upgrade or outsource? Many hospitals are looking to consolidation as a viable solution, putting off an RCM upgrade and focusing completely on revamping the entire organization. Becker's reports that consolidation can benefit both parties "as it allows large health systems to expand their market presence, while allowing struggling hospitals to gain financial sustainability." This could mean upgrading the RCM system of the struggling hospital immediately, although it is possible that the acquiring organization might keep the outdated RCM in effect for a short period.
What should hospitals know about revenue cycle management?