What is The Triple Aim?
Back in 2007, the healthcare industry was introduced to a little concept called The Triple Aim. The major motivation for which is improving population health through a three pronged framework:
Improving the patient experience of care (including quality and satisfaction);
Improving the health of populations; and
Reducing the per capita cost of health care.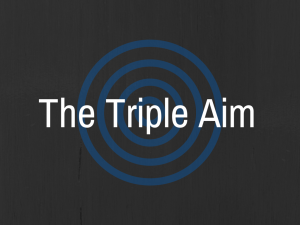 Why Are We Pursuing It?
While a major motivation behind the Triple Aim's development was money, the impact on population health has positive implications for patient health. One of the reasons that healthcare costs in the US are unparalleled is because of the complex patient demographics that physicians deal with on a day-to-day basis and gaps in coverage for those who are not privately insured.
There is no standardization of coverage in the US for patients: only those who can afford private insurance, or those who are covered through their employer, have that particular level of coverage. The rest are at the mercy of state and federally funded systems like Medicare and Medicaid; if that.
Because these programs offer limited reimbursement to healthcare providers at best, limiting the number of patients with these insurances that a provider accepts has been a matter of fiscal survival. But it means there's a coverage and access to care discrepancy among patients in the US that's only widening.
The Triple Aim and ACOs
We can't talk about the Triple Aim without discussing ACO's: Accountable Care Organizations have been cropping up nationwide and have been tasked with helping shift healthcare toward the accountable care model.
The model of care is concerned with creating standardized approaches to tracking quality, patient satisfaction and patient outcomes. The thought being that if the data can be collected, analyzed and then used, healthcare on the whole will be better positioned to support patients with the best quality of care for the lowest possible cost.
This matters because the healthcare industry as a whole has been financially unsustainable for so long that it's not enough to pay off debt; the entire system needs to be altered to promote that economic sustainability moving forward. Of course, the concern is, if less money is spent, does that mean the quality of care and services will have to suffer?
That's one challenge that the Triple Aim is meant to address. How can providers provide a high level of care to patients, meeting not just their needs but their wants, while not driving up costs.
Slow, Steady Progress
The move toward accountable care and the patient-centered medical home model has been slow, but steady. As we continue to progress forward, traditional healthcare organizations will need to develop close and supportive relationships with community operations, such as public health services and organizations that are state funded and provide care to a wide variety of patients (many of whom are unlikely to be privately insured.)
It's also vital to create longitudinal relationships with patients so their progress toward their health goals can be tracked. With the advent of EMRs, it's easier than ever before to amass a lot of clinical data on a patient and, hypothetically, share it amongst all healthcare providers involved in their care.
This information is valuable not only to the patient's long term health, but can help reduce cost by preventing duplicate procedures and tests, as well as providing a running track record of the patient's own involvement — and adherence — to their treatment program.
Cautious Optimism
The idea that patients should be partnered with their healthcare providers isn't exactly a new one, but it's only become a non-negotiable ideal in the last decade or so. Patients need to be empowered to make decisions about their healthcare and providers need to be able to clinically support those decisions.
The Triple Aim gives them a roadmap to forge this relationship, but in the grand scheme of "how we've always done it" in healthcare, the path ahead is long and arduous. From a theoretical standpoint it seems easy enough to achieve, but those who are out of the administrative offices and on the front lines know that it's difficult. There are not just practical concerns and challenges, but financial ones.
How those will be addressed will no doubt impact the success of The Triple Aim in the long term. For now, it's worth investing time, resources and capital in the venture, but probably best for providers to remain cautiously optimistic about its ability to completely transform an unsustainable healthcare system.