You may have heard of NCQA's HEDIS measurements, but maybe you're not quite sure what all they entail. Today we'll walk through what they are, why they're important, and how they relate to accreditation.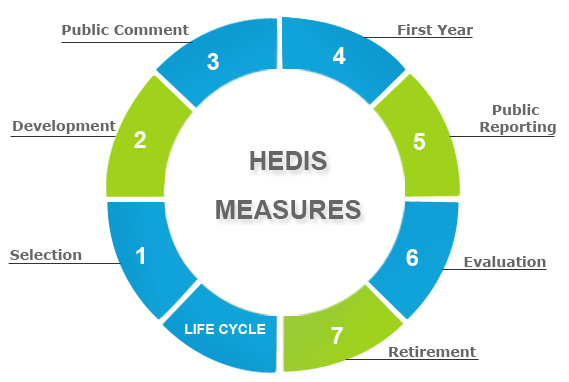 What is HEDIS?
HEDIS is a tool used by more than 90% of America's health plans to gauge performance on important aspects of care and service. With so many plans collecting data with measures that are so specifically defined, HEDIS makes it easier to compare the performance of health plans on an equal playing field. Health plans also use the results to see where they need to focus on improvement.
The measures address many health issues, such as:
Asthma Medication Use
Persistence of Beta-Blocker Treatment after a Heart Attack
Controlling High Blood Pressure
Comprehensive Diabetes Care
Breast Cancer Screening
Antidepressant Medication Management
Childhood and Adolescent Immunization Status
Childhood and Adult Weight/BMI Assessment
How HEDIS is used
Many health plans report HEDIS data to employers or use results to improve quality of care and service. Employers, consultants, and patients use HEDIS data to help them select the best health plan for their needs. All data is rigorously audited by certified auditors using a process designed by NCQA.
Consumers also benefit from the data through the State of Health Care Quality report, a comprehensive look at the performance of the nation's health care system. These results sometimes act as "report cards" that appear in national health magazines and local newspapers.
Why it matters
HEDIS was created to provide the information needed to reliably compare the performance of health care plans. HEDIS results are included in Quality Compass, a web-based comparison tool that allows users to view plan results and benchmark information. To ensure that it stays current, NCQA has established a strategy to evolve measurements each year. NCQA's Committee on Performance Measurement, a broad-based group representing employers, consumers, health plans and others, debates and decides collectively on the content. This group determines what HEDIS measures are included, while field tests determine how it gets measured.
HEDIS and accreditation
These measures are just one facet of the accreditation process, but help keep things up-to-date and relevant with each passing year. Those seeking NCQA accreditation will become much more familiar with the term and its many uses.
Interested in learning about healthcare accreditation? Read this.