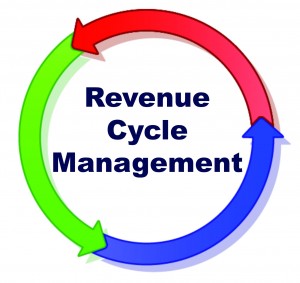 Revenue cycle management (RCM) is incredibly important to a practice's profitability. Without the ability to streamline the billing and collections processes, a medical enterprise will find it challenging to stay afloat. What makes it even more challenging is that the payment environment has changed considerably in the last few years. Despite the increase in coverage due to healthcare exchanges, many "patients now find themselves responsible for a significant portion of their medical bill, which has led to an increase in the size of outstanding patient balances".
Managing your practice's revenue cycle requires you and your staff to take an honest look at your current workflow to determine what's working and what isn't. Here are some things to focus on:
Your Financial Policy
Your patients need to know that their payments are due before they come in to see you. Check the policy listed on your website and statements to see if you are clearly communicating this.
Check Your Daily Collections Report
Are you checking your daily collections reports… daily? These will help you to quickly see how many patients were seen that day, how much money was collected, and how many patients were collected from. If a patient wasn't collected from, your report should also explain why that occurred.
Check Your Front Desk
Make sure your front desk people are taking accurate information about patients' deductibles, copays, and past balance dues.
New Patient Policy
What is your practice's policy on collecting payment from a new patient who has a high deductible? Are all services clearly documented so they can be collected at checkout? Does staff provide new patients an estimate of costs at check in?
Technology and Education
In order to have the most efficient billing processes you've got to keep your technology up-to-date. Scheduling programs and medical billing software can help your practice streamline your workflow and finances at the same time.
Also, administration should ensure staff is properly trained and up to speed so any financial issues that arise can be swiftly and efficiently handled, as well as all filing deadlines be met.
Collect Trending Data
Your practice creates a plethora of data each year and you should be leveraging it to identify trends. Consider using an enterprise data warehouse (EDW) which has the ability to combine all of the various pieces of information you have at your disposal, and optimize it for analysis so you are able to identify important trends.
The trends you'll want to focus on are A/R composition, denied claims, related KPIs, and insurance payments. You will want to consistently track these trends.
Watch Medicare Like a Hawk
You've no doubt experienced a loss in revenue because of Medicare's tendency to delay their distribution of payments to providers. Sometimes these delays are caused by insufficient documentation, improper coding, or any other number of reasons.
All practices must identify the exact date that Medicare stops or delays payment so that they can take the necessary measures to receives their payments owed.
Form Good Relationships with Patients
It's important you form and maintain good relationships with your patients as positive exchanges can decrease the time it takes to process accounts receivable. Make sure your front desk staff know how to deal with patients in a friendly and respectable manner. If need be, spend time training them on how to improve work efficiency and customer service skills.
Consider Outsourcing
Outsourcing revenue cycle management makes sense for a lot of practices, especially smaller ones that tend to become friendly with patients and allow past-due balances to slide for too long.
A revenue management team can set up efficient collections processes and essentially become the "bad guy" on your behalf. Your RCM team will also save your office staff an incredible amount of time. Your staff's role is to establish payment policies for delinquencies with patients and go over payment options, but collections can be handled entirely off location.
Create a Monthly Dashboard
Months can go by and many physicians have no idea whether their practice has grown or at least maintained its revenue stream during that time. A simple and effective way to track growth is to create a monthly dashboard that includes the metrics you will use each month and quarter.
Your dashboard should also include the number of patients you see each month as this is a very good way to determine growth. Make sure the dashboard is reviewed by the finance committee, executive committee, and all-physician group.
Proper Implementation of ICD-10
It goes without saying that one of the biggest revenue challenges for practices in 2015 will be the transition to ICD-10. In order to ensure you won't face an increase in denials or a lag in payments, you should determine sooner rather than later how you will implement ICD-10. In general, all providers must look at their entire business operations to determine where they can cut costs and gain revenue.
Your revenue cycle is your life blood. The money paid out of pocket by patients and the reimbursements on claims filed are what keeps your doors open. Want to know your practice's current financial health? Take a look at how you manage your payment processes and whether or not you have a handle on collecting past due payments.
While you may recognize the importance of having the upper hand in your billing processes, effective Revenue Cycle Management (RCM) is challenging (to say the least) to most practice owners who typically lack the time and expertise to ensure they are getting paid in full and on time.
Practices that have appropriate workflow, up-to-date technology and a capable billing staff should have no problem maintaining revenue and growing over time. Those practices that lack these resources are candidates for outsourcing.
About the Author
Alex Tate is a digital marketing specialist, content strategist, and a health IT Consultant at CureMD who provides perceptive, engaging and informative content on industry wide topics including EHR, EMR, practice management and compliance.