Your ICD-10 Top Ten Resources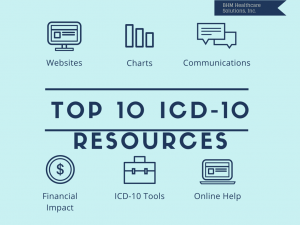 We know, the ICD-10 Clock is ticking and organizations have only a short time to prepare for the myriad of changes that ICD-10 will bring. If you are like many other individuals in healthcare, you know that your organization needs to be prepared for the ICD-10 impact, but you might not be sure where to begin, or what to look at.
Well, rest assured, we have you covered.  For the past few months our consultants have been scouring the web to bring you the best of the best when it comes to ICD-10 literature available, everything from websites, to white papers, definitive guides to charts and prep lists.  We have assembled them all here for you in our list of ICD-10 Top Ten Resources.
Before we get started with the official resource guide, consider an ICD-10 Digital Countdown so that you can keep your organization up to speed on the days, hours, and seconds left before changes are implemented: get your free widget here
Resource #1 The ICD-10 Quick Start Guide
A handy little guide put together by CMS that will give you a very high level road map and some very good tools to start your ICD-10 transition: Get the Guide Here
Resource #2 For Audio Learners Listen to an ICD-10 Podcast
Want to know more about ICD-10, but challenged to find the time? Take the learning experience to the road, increase your knowledge while on the treadmill, or strengthen your knowledge base during down time at your desk with this podcast that is conversational, informative, an features a variety of topics and speakers: Get The HIMSS Podcast Here
Resource #3 Use the Road to Ten Website
There are plenty, and we mean plenty, of free webinars related to ICD-10 Implementation, but for the best of the best we recommend going straight to the source.  The Road to Ten Website features informative trainings, videos, brochures and expert guidance specifically targeted toward the smaller physician/provider practice, here is a preview:

Resource #4 The Definitive Infographic
This is one of the best ICD-10 Infographics out there, courtesy of Teksystems.  It has a great arrangement of key information, timelines, and impacts and is one of the most comprehensive visuals that we have seen on the web.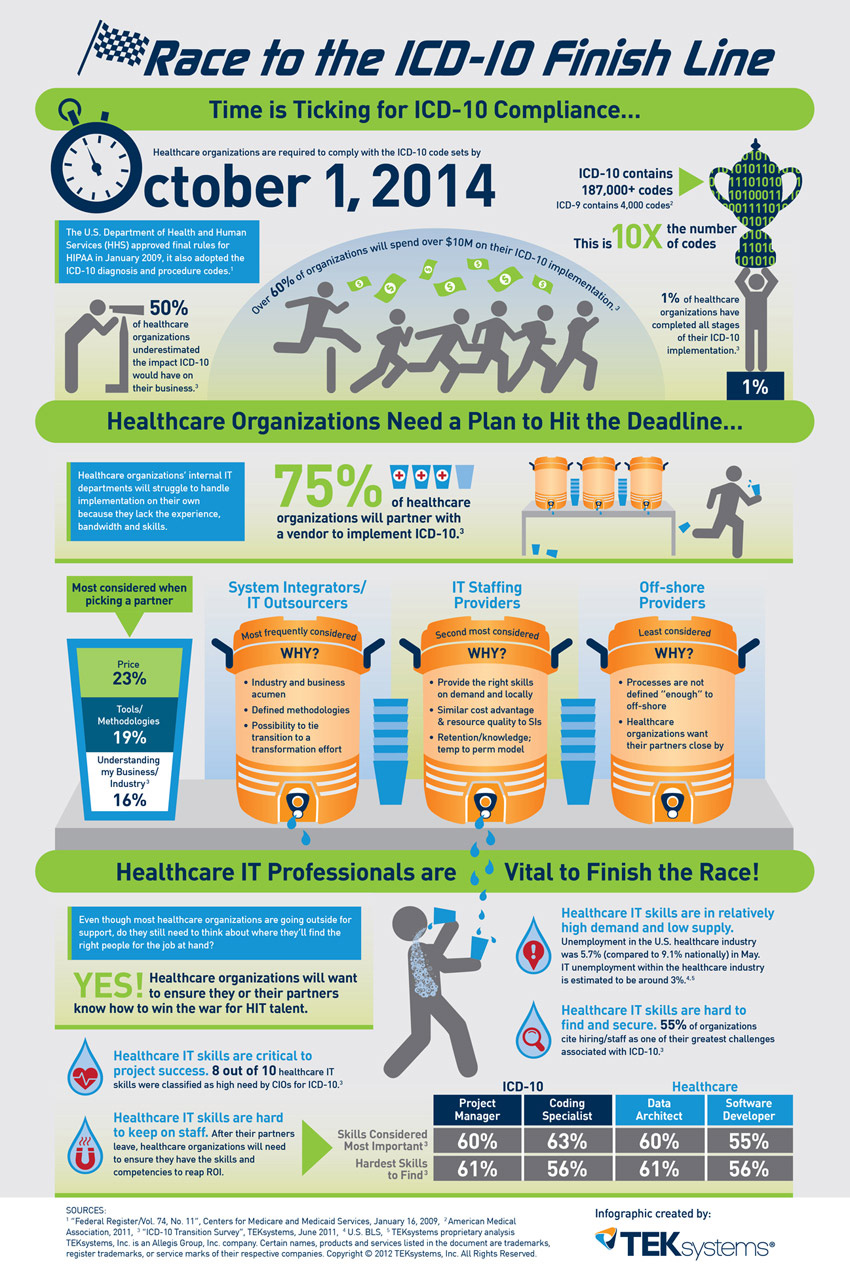 Resource #5 The Official Guide to ICD-10 Coding and Reporting
We know that some of our other resources have been more fun, but when your team is really ready to dig into ICD-10 and begin to learn the ins and outs of what is changing and how to apply these changes, here is a copy of the Official Guidelines for ICD-10 Coding and Reporting courtesy of CMS
Resource #6 An ICD-10 Success Story
Because there is no substitute for experience, read about how one practice, Advanced Medical of Naples, prepped for ICD-10 with stunning results.  Find the full story here
Resource #7 Start with the Basics With this White Paper
Read "ICD-10 An Introduction" the best of the best in literature for the ICD-10 Beginner brought to you by CMS's eHealth University
Resource #8 Free Training For All
Free training in the form of presentations and webinars abounds on the web, but as we all know some are better than others, here are our top three introductory level trainings for ICD-10 Implementation
Resource #9 Get in the Know Via Email Updates
Make sure that ICD-10 stays top of mind for your organization, with this email series that is offered from CMS.  As an added bonus the email content follows an ICD-10 Road map which allows you to get content specific messages that correlate with the topics you should be dealing with according to an implementation timeline.  Sign up here
Resource #10 Get Expert Insight Into Your ICD-10 Questions
ICD-10 constitutes a substantial change for most organizations, between implementing changes, training staff, and ensuring that all external parties to your practice or organization are also in alignment the impact is significant.  Of course one of the fundamental questions that organizations ask is what will be the financial impact, and how do we mitigate this while making the transition.  At BHM, we can help you get the answers to these questions.  Contact Us for a complimentary consultation where we can show you how to ease your ICD-10 transition and prepare successfully to lessen the financial impact to your organization.  As will the other resources we have highlighted.  It is complimentary!