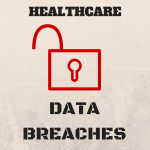 From Anthem to Premera Blue Cross, healthcare data breaches have been buzzing in our news feed since the beginning of 2015. But did you know that five of the biggest data breaches in the healthcare industry occurred this year? And that over "92 million individuals" have been affected by healthcare breaches in 2015 already (just up until May).
Unfortunately, it's been a big year for cyber attacks and according to Bloomberg Business "nearly 90 percent of health-care providers were hit by breaches in the past two years, half of them criminal in nature, the report found." While many organizations are buffing up on security and creating awareness around the important issues of cyber security and healthcare, a recent survey by KPMG found that only 66% of providers feel they are prepared a cyber attack. Take a look at our blog post "The Real Cost of Data Breaches" to understand what types of breaches happen and the cost associated with them. In the meantime, here are 4 infographics giving us some scary insight in the world of healthcare data and data breaches.
Cyber Security Pulse 2015 Survey | HiMSS

Healthcare Data Breaches, Impact & Causes | CynergisTek
Why healthcare information is valuable? | KPMG
"Patient records are far more valuable than credit card information for people who plan to commit fraud, since the personal information cannot be easily changed. A key goal for execs is to advance their institutions' protection to create hurdles for hackers." – Michael Ebert, leader in KPMG's Healthcare & Life Sciences Cyber Practice.