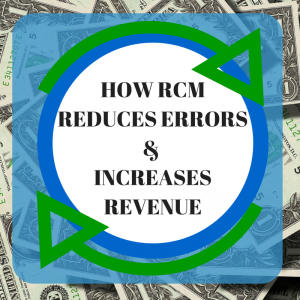 With new advances in the way medical information is transcribed, stored and transferred, technology has created more variables to a provider's success than ever before. Between tangling with mountains worth of paperwork, handling claims denials and riding the learning curve of new systems like EHRs and ICD-10 coding, there can be lots of room for error and, consequently, potential revenue that slips through the cracks.
Luckily, revenue cycle management systems are here to help. They can streamline a vast array of your most intensive processes — like admitting, coding, balancing budgets, billing and filing claims — in order to provide a supreme level of oversight and control. This control in turn helps you avoid common RCM problems that lead to lost revenue, profitability and productivity.
Delving more into the specifics, these are the primary RCM benefits that can help you both reduce errors and drive revenue at the same time:
1. Coding Flags
ICD-10 is sending massive waves throughout the healthcare provider industry. The new requirements are catching those without the needed training or oversight capabilities completely off-guard. As a result, they are seeing more billing errors and coding errors that lead to denied claims and lost revenue.
RCM systems can include coding functions that help vet billing codes and flag the ones with possible errors. These flags are based on common mistakes that occur generally and within your organization specifically. Anyone handling the coding or billing process of the claim before it is officially filed will detect the flag and correct the error, saving themselves time and preventing a lengthy denial and appeals process.
2. Identifying any Missing Codes, Charges or Needed Details
We all make mistakes, especially when we are sorting through hundreds — if not thousands — of patient files on a weekly basis. Some of the most costly mistakes when it comes to RCM stem from gaps left in patient billing files. Missing codes can lead to instant denials and wasted labor hours. Missing charges are even worse because they can slip through the cracks and leave someone with a bill lighter than they expected. Chances are, they will not be too keen to point out those missing charges, either.
Spare yourself from the financial consequences of these billing errors with a RCM system that can identify missing form entries as well as one that can automatically assemble bills and invoices based on the patient's records. You will end up with far less incomplete bills and ensure that charges are not left by the wayside. After all, every service costs something, so someone is paying for it. Make sure it's not you by fully utilizing RCM benefits.
3. Flagging Underpayments
Patients and payers make mistakes, too. Similar to the point above, many times an invoice or claim will only return with partial payment. Not everyone catches these errors, and those that do may not have a formal system for logging them and placing the missing funds back into the billing cycle.
RCM can provide this level of auditing to help ensure consistent payment without placing all of the responsibility on accounts receivable.
4. Confirm Eligibility
Expectation of benefit statements offered by insurers are not always easy to decipher. Doing so can take up valuable time of back-office employees that could be spent more productively.
An RCM can help you automate eligibility for reimbursement programs upon admitting, letting you avoid having to parse through every EOB. Patients who are unsure or misinformed about their coverage areas can be notified immediately whether they are ineligible for certain procedures or services under their current plan.
For programs like Medicare and Medicaid, an RCM can help you decipher the fine line between expenses that can be claimed and those that cannot. Providers then know further back in the process whether a patient will end up having to self-pay or if they can choose alternative, covered services.
5. Streamline Workflow and Revenue Oversight
Paper systems can lead to confusion, which compounds exponentially when a mistake is made and someone passes the buck. The next thing you know, a file is found crumpled at the bottom of the drawer and no one knows what to do with it.
Digital RCM systems clearly indicate the next step in workflow, all the way from admitting and provision of care to the final billing and accounts receivable stages. Every single file and service ordered is tracked and automatically pushed along to the next stage, helping make back-office duties simpler and more clear-cut than ever. Files that fall by the wayside for several days in a row can be flagged, and any human error that does arise does not have to set anyone back more than a few moments.
RCM processes also allow for instant views of your financials. You can see account balances currently and what account balances could look like if all pending balances were settled. Scenarios like these allow you to chart months or more into the future without having to crunch a heap of numbers at once.
Conclusion: RCM Benefits Are Too Numerous to Count
These are just some of the benefits that a modern, integrated RCM system can provide. As providers move towards digital, network-based systems like EHRs and ICD-10 coding software, RCM can become a crucial tool that supports and enhances the other systems. Consider all of these RCM benefits as you assess your organization's needs and challenges and look for solutions that put money back in your pocket while improving outcomes.
Author Bio:
Alex Tate is a health IT Consultant at CureMD who provides perceptive, engaging and informative content on industry wide topics including EHR, EMR, practice management and compliance.