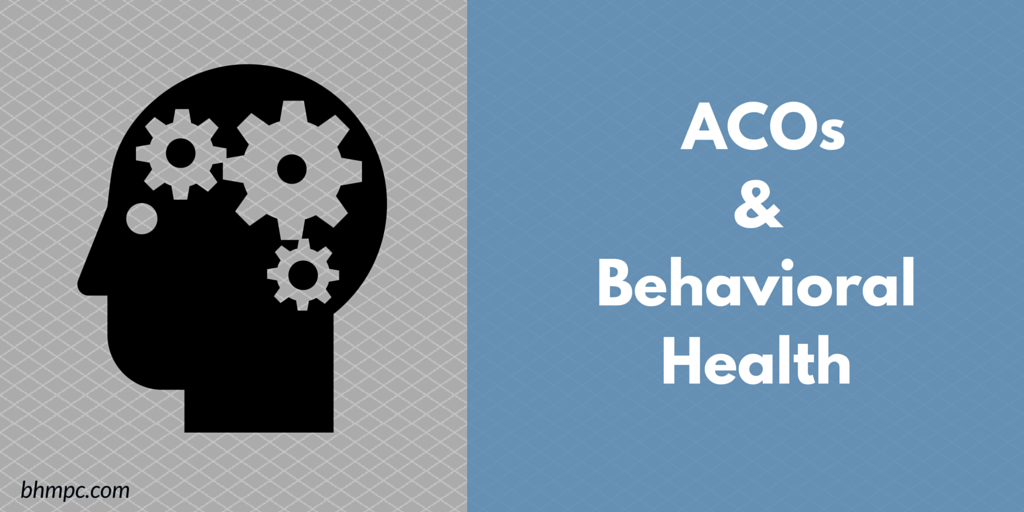 Accountable Care Organizations (ACOs) have been a hot topic in the healthcare world over the past year. Hoping to shift the focus of the healthcare industry from volume to value, ACOs focus on increasing quality, reducing, cost and improving the patient experience. This hopeful new focus on the Triple Aim places ACOs in a very interesting spot in relation to another growing healthcare trend: Behavioral Health. As behavioral health is taken off the country's back burner and the stigma surrounding mental health begins to lift, a unique opportunity is opening for ACOs to become champions for the behavioral health sector. 2016 will be an important year for Behavioral Health, as everyone from "employers to insurers" are starting to "recognize mental health as important to their employees' and customers' well-being and productivity." Because ACOs are in search of ways to innovate and improve the patient experience, integrating or collaborating with Behavioral Health Organizations can only benefit their end goal.
It all comes down to improving the patient experience and improving medical outcomes. By targeting mental health or substance abuse issues at the same time as the specific care for other medical issues, ACOs and behavioral health providers help improve outcomes, whether in the form of readmissions or better patient satisfaction and care. For example, in an article by Jill Sederstrom for Behavioral Healthcare psychiatrist Nicholas Batson, MD found that targeting both behavioral health and other medical issues in one place would result in better patient-centric care. "A patient may come in with depression and anxiety, but at the same time, there may be other medical conditions that are affecting the depression and anxiety—maybe hypothyroidism, maybe they have chronic pain—and so we can add that to our assessment and give them a more specific, a more patient centered, treatment plan."
Moving Forward
Integration doesn't start and end with coordinated care, as administrative tasks, billing and staff all need to be taken into account. Here are 3 focus areas SAMSHA suggest ACOs consider when moving forward with behavioral health integration. Please see the original document here.
Administration
"Building and sustaining integrated care means all facets of the organization must reflect the values of whole health, collaborative care, and the understanding that successful clinical outcomes are everyone's responsibility CITE.1″ Organizations will also want to take missions statements and work plans that fully encompass their behavioral health services.
Workforce
Are there behavioral health professionals already located in your organization or do you have a patient-centered behavioral health team? ACOs will want to train or make current behavioral health professionals from their team active members of the care process.  "Integrated care involves patient-centered care team providing evidence-based treatments for a defined population using a measurement-based treat-to-target approach. In integrated settings,a behavioral health general practitioner works as part of the medical team to meet a wide range of needs2″.
Clinical Practices
The shift from focus on the individual to the population base care. "Do you have the capacity and functional systems in place to provide population-based care for patients with one or more physical or behavioral health chronic condition3?" According the SAMSHA, this shift to population based care related directory to quality improvement. The three main components of successful integration of clinical practice will be population care, self-care and the medical record.
Things to Consider
In the same white paper from Center for Health Care Strategies, ACOs are provided with 5 main focus points to consider as they move towards integrating a behavioral health strategy.
Acknowledge differing provider capacity to assume downside financial risk among different provider types when designing financial strategies.
Invest in mental health and substance abuse provider capacity building activities, including HIT and technical assistance, to enable them to participate in data-sharing activities.
Include behavioral health measures and other relevant social outcome metrics across physical health quality incentive programs and in MCO contracts.
Consider reorganization at the state agency level to further promote more integrated oversight and alignment across relevant behavioral health initiatives.
Revise licensure and other regulatory frameworks that currently serve as barriers to provider-level integration and establish the integration of physical and behavioral health services as a core component of cross-cutting policy strategy. (All cited to Center for Health Care Strategies Inc.).
Works Cited
1, 2, 3 – Considerations for Integrating Behavioral Health Services within Medicaid Accountable Care Organizations,
Center for Health Care Strategies Inc., 2014: http://www.chcs.org/media/ACO-LC-BH-Integration-Paper-0709141.pdf
Behavioral Health Integration: Quick Start Guide, SAMHSA: http://www.integration.samhsa.gov/integrated-care-models/CIHS_quickStart_decisiontree_with_links_as.pdf