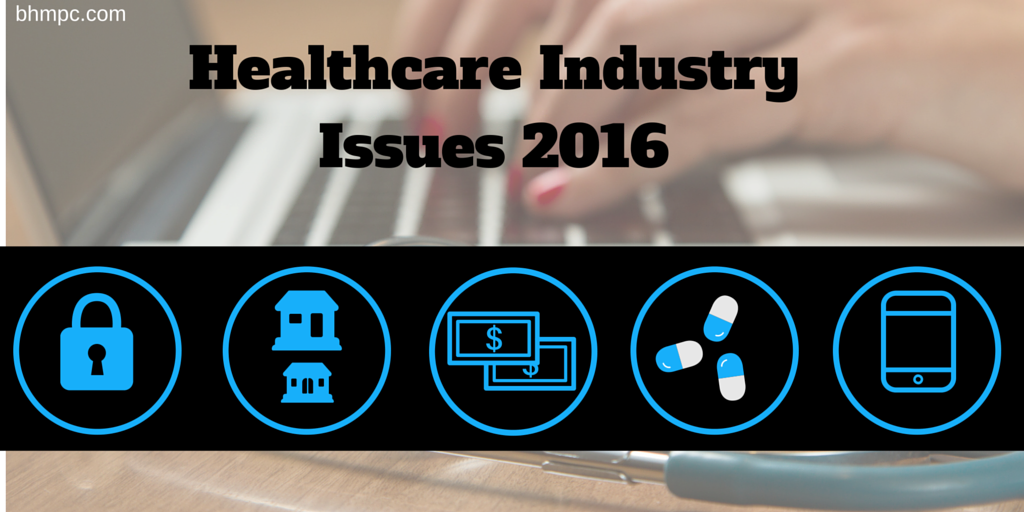 It's only the beginning of 2016 but here at BHM Healthcare Solutions we have been keeping a close eye on the upcoming healthcare trends for the year. So far we've discussed the important trends of Pharmacy and Behavioral Health and how each of those industries is expected to make great strides in the New Year. Today, we are actually going to focus on some issues that we can expect to greatly impact the healthcare industry in 2016. Thanks to the annual Healthcare Issues report by the Health Research Institute of PricewaterhouseCooper (that highlights 10 major issues for the healthcare industry), we are able to take a deeper look into what the New Year may hold for the healthcare industry as a whole. From mobile health to Mergers and Acquisitions let's look at the first 5 healthcare industry issues bound to take root this year.
The Mobile Health Revolution
According the PwC "the percentage of consumers with at least one medical, health or fitness app on their devices" has doubled since 2013. Using smartphones and other mobile devices has almost become second nature to us now, many people never leave the house without their connected device. This change in the way we live will greatly affect the way we access care – shifting from the hands of the provider to the hands of the patient. How can you tackle this issue? PwC suggests embracing innovation (especially those in remote areas), build technology into your long-term goals and plans, and seize this opportunity to champion the industry when it comes to mobile health.
Big Questions in Cyber Security
According to PwC cyber security concerns will be an issue for many healthcare organizations in 2016. Even though the consumer is embracing mobile health, they are still wary of how safe their data actually is. Hacked and lost devices can equal lost customers. Companies and healthcare providers alike will have to bulk-up security around patient data for connected devices and apps. Preventing breaches will be key to helping patients happy and keeping them around.
The M Word
Mergers and acquisitions (M&A) aren't a new concept, but in the post-Affordable Care Act world they have become a popular solution for yielding to ACA regulations. 2015 was a big year for mergers – from health systems to health plans. With federal approval of industry mergers, PwC ensures us this approval "could spur a chain reaction of further consolidation" – especially for those hoping to enhance bottom lines and increase quality of care. So focus on your strengths as an organization, become the best at what you do.
Drug Cost Controlling
We discussed the high price of pharmaceuticals and specialty medications many times over the course of 2015 and the attention to this subject is still growing. Pharmaceutical companies may have to start justifying costs. "Companies should consider the feasibility of alternative financing models, such as spreading out payments, to make drugs more affordable and budgeting more predictable."
Consumers as Money Managers
Consumers are not only becoming tech savvy but they are starting to look for better ways to manage their money. According to PwC 56% of people ages 18-34 would be interested in looking for programs or systems to help manage their medical expenses. High deductibles and increases in out-of-pocket care are taking the country by storm. PwC suggests that "in 2016, consumers will begin to manage their own health spending in ways that will ripple across the industry, using new services for healthcare planning that echo those that grew out of the advent of 401(k) retirement plans."
Keep an eye for the Healthcare Industry Issues part 2! Where we will covering the second part of the Pwc list- featuring behavioral health and medical costs!