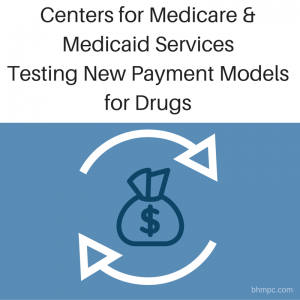 The Centers for Medicare & Medicaid Services is testing some new reimbursement models for drugs, some of which mirror models currently used in the private sector. Medicare hopes working with providers, like many private payer networks, will lead to more efficiencies in prescriptions and eventually to lower costs.
These "indication-specific" pricing models hold promise for the future. According to Julie Appleby for Kaiser Health News ("How Medicare Drug Plans Hope To Follow Private Sector Lead"), CMS will be testing four specific models in selected geographic areas over a 5-year test period.
 4 Pricing /Payment Models Under Investigation for Testing
Cut drug reimbursements for doctors and outpatient hospital centers. Hoping to lower add-on fees that still dominate much of Part D, CMS wants to change the current reimbursement formula by "cutting the add-on to 2.5 percent of the average sales price."
Level payments. Benchmark pricing, currently used in the private sector to level payments for services patients might often "shop around" for, is something Medicare is looking into for some prescription medications. "Unlike most private-sector models, Medicare patients who get drugs above a benchmark cost could not be billed for the difference. The goal is not to encourage patients to change drugs. Instead, Medicare said it will test whether grouping similar drugs into a single payment rate will give physicians incentives to use 'products that provide the most value for the patient'"
Tie payments to effectiveness. Medicare is proposing to have drugmakers agree with offering rebate that could link to the final price of their product.  "…Medicare would adopt an approach similar to that used by Express Scripts (see Kaiser article), varying the amount of payment based on the type of condition for which a drug is used. Drugs are often approved for more than one condition — say two different types of cancers — but may be more effective at treating one than the other. Under the proposal, Medicare would pay a physician less when drugs are used to treat cancers with lower rates of effectiveness."
Cut patients' out-of-pocket costs. Medication adherence can be greatly affected by rising drug costs and copayment prices. Medicaid is considering lowering copayments (and possibly even eliminating them) for some important and "valuable" medications to help increase adherence rates and keep patient on track.
You can read the full Kaiser Health News Article by Julie Appleby here: http://khn.org/news/how-medicare-drug-plans-hope-to-follow-private-sector-lead/
BHM works with payers and pharmacies on many facets of operations from specialty pharmacy accreditation to strategic planning. All leading to increasing internal efficiencies and lowering expenses.
Join the next free BHM webinar – Overcoming Barriers: A Live Q&A on Specialty Pharmacy Accreditation Success and Maintenance. Register here: http://bhmhealthcaresolutions.enterthemeeting.com/m/JC27FM6D