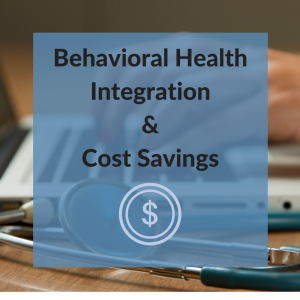 BHM integrates behavioral health through our independent review services. Our network compliments your organization's push for integration with over 500 practicing clinicians. Click here about how this approach and expertise sets BHM review services apart.
The healthcare industry is taking critical steps towards moving behavioral healthcare off the back burner and into the spotlight. As demand for behavioral and mental health services across the continuum of care continues to grow, there is wide spread opportunity for healthcare organizations to become champions for primary care and behavioral health integration.
Improved Care & Cost Savings
Integrating behavioral health services with primary care not only helps to reduce the stigma that often surrounds mental health disorders, but also improves the quality of care and treatment effectiveness of patients with behavioral and mental health issues.
According the American Hospital Association "people with untreated behavioral illness drive up total health costs because they use non-psychiatric inpatient and outpatient services 3 times more than those who review treatment."  The report also states that people with untreated mental health issues are almost more likely to be readmitted if their conditions continue to go untreated. This is a clear example of how behavioral health integration can help not only improve care but reduce costs.
Case Study
The same AHA report includes a case study on Robert Young Center for Community Behavioral Health in Rock Island, Illinois. The study shows that by collaborating and coordinating care between primary care and behavioral individuals, and also embedding behavioral health specialists into care setting, emergency room visits and admission rates were vastly reduced.
Results*
46 percent reduction in emergency room visits
65 percent reduction in Medicaid payments for emergency room visits
50 percent reduction in psychiatric admissions
9 percent reduction in medical admissions for patients with behavioral health diagnoses
80 percent reduction in payments for medical admissions
Whether it's improving communication between primary care providers and behavioral health experts, reducing the stigma around behavioral health treatments that continued to prevent patient from getting treatment or closing the gap between how behavioral health issues are treated as a whole, integration is helping make big changes in the healthcare industry.
*Case Study from American Hospital Association, "Integrating Behavioral Health Across the Continuum of Care." 2014. See full report here: http://www.hpoe.org/Reports-HPOE/Behavioral%20health%20FINAL.pdf