BHM Healthcare Solutions knows about changes in healthcare and guided organizations, like yours, through the stormiest of market seas. CLICK HERE and schedule time with our Healthcare Experts.

2017 medical costs stabilize near the same rate as 2016. Signs point to larger increases in the future. At least, according to a report going behind the healthcare numbers by PwC. BHM services target key components of your operations affecting costs while encouraging transparency.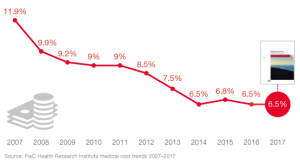 PwC observes:
2017 will be a year of equilibrium for medical costs. The forces that increase health costs are being tempered by a demand for value in the New Health Economy.
PwC's Health Research Institute projects the 2017 medical cost trend to be the same as the current year – a 6.5% growth rate.
There are signs that the decade's slowing medical cost growth rate could tick back up as new healthcare access points increase utilization.
Healthcare organizations must increase access to consumer friendly services while decreasing unit cost.
In a lengthy report, PwC identifies the factors acting as inflators and deflators for the healthcare expenses in 2017.  Here a few:
Inflator: Increased access for behavioral health

Behavioral healthcare – once on the back burner of health treatments – now has the regulatory push and mainstream recognition to be a crucial part of employer's health benefits. (Click HERE for ideas for cost containment of BH resources.)

Neutral: Specialty drugs – loosening their grip

2017 will see slower specialty drug cost growth. For the first time in several years—since being stunned by high cost Hepatitis C drugs—these specific types of drug costs are not growing as fast.

Deflator: PBMs get aggressive

New and more aggressive strategies from pharmacy benefit managers (PBMs) will help deflate the medical cost trend. In addition, we expect political pressure also may keep some of the largest drug cost increases in check.
Medical Costs Stabilize and Affect Your Operations
The report continues with observations on the effects of these trends on your organization. Here are a couple thoughts from the report. The full report offers a few actions to consider for insurers and providers.
Healthcare providers: Facing competition from new sites of care, healthcare providers are exploring consolidations or affiliations with other health systems to grow market share.

Health insurers: Finding it difficult to keep premiums low while controlling costs, health insurers must transform business models and steer patients to lower-cost, high quality providers while being transparent.
BHM provides behavioral health and medical review services and performance improvement consulting to health plans, providers, ACOs, TPAs, workers' compensation and other insurers nationally. CLICK HERE and schedule time with our Healthcare Experts.