---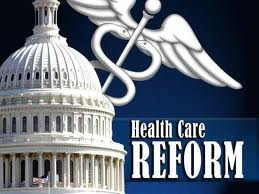 A new Kaiser Family Foundation poll says more than half of adults now have a favorable opinion of the Affordable Care Act (ACA). That's more than ever. But at the same time, a new Commonwealth Fund survey released yesterday finds that many people with coverage under the law are anxious they might lose it. In fact, three of 10 working-age adults who have marketplace or Medicaid coverage are pessimistic about their ability to maintain that insurance going forward. Of those, nearly half pointed to actions by the Trump administration and Congress as the main source of their unease.
An overwhelming majority of adults in the Commonwealth Fund survey believe that all Americans should have the right to affordable health care. This includes 99 percent of Democrats, 82 percent of Republicans, and 92 percent of independents. Yet, like other recent surveys, we find that uninsured rates among working-age adults have plateaued at 14 percent, after falling in the wake of the ACA's coverage expansions. About one-third of uninsured adults continue to be unaware of the marketplaces and affordability concerns remain the primary reason why many others don't shop for health plans in the marketplaces. Confusion about the status of the ACA also factors into some uninsured adults' decisions not to look for a plan.
Federal and state policymakers have a number of different policy options that would increase coverage and improve premium affordability. First, signals of support for marketplace and Medicaid coverage from both Congress and the administration would allay the concerns of people who depend on this coverage. Such signals also would provide a more certain regulatory environment for insurers selling plans in the individual market. Instead, the administration's current efforts to allow the sale of insurance policies that don't comply with the ACA's consumer protections are likely to destabilize insurance markets and make many consumers' fears of losing their coverage a reality.
Second, increased outreach and advertising in all states could boost awareness and understanding among uninsured adults of available coverage options and how to access them. States like California have seen that outreach has led to improved enrollment, coverage continuity, and lower premiums.
Third, analysts Christine Eibner and Jodi Liu of RAND modeled six options to increase the affordability of plans sold in the individual market, including instituting a federal reinsurance program for insurers and extending tax credits to people who earn more than the current income eligibility threshold for premium tax credits. There are bills in Congress that have proposed both these options. RAND finds that a federal reinsurance program that would offset part of the cost of unusually high claims could decrease premiums by as much as 19 percent and lead to deficit savings of up to $13 billion.
Finally, leaders in 19 states that haven't expanded their Medicaid programs could accept the federal funds available to them under the ACA and allow people with low incomes in their states to enroll. The Kaiser survey shows 56 percent of adults living in nonexpansion states believe their state should expand the program.
There are clear levers available to state and federal policymakers to improve the ability of Americans to get affordable and comprehensive insurance — and alleviate the concerns of the millions who are currently covered through the ACA. We just need the collective will to pull them.
BHM understands the healthcare reforms (like BCRA, AHCA, and ACA) happen continuously and certain practices, policies, and processes weather any change, no matter which way the wind blows. Click HERE and discuss how BHM prepares your organization for the future.