---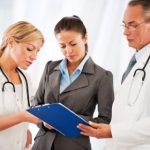 Digital tools and online presence play key roles when patients select a provider, Doctor.com said in a new healthcare customer experience study. The survey found that most respondents will select a provider over another based on online presence, including 67% of people more than 60 years old. The report found that patients aren't using the internet just to find doctors. About 45% of patients said they prefer digital ways to request an appointment.
Online tools have become the go-to spot for many patients looking for a doctor and navigating the healthcare system. The survey of 1,700 adults found that roughly 80% of respondents said they had conducted a health-related online search in the past year.
Patients said they read online provider reviews even after being referred to a physician, and 60% said they wouldn't book an appointment with a provider that has poor quality reviews.
Patient reviews often don't even relate to medical services, but instead focus on wait times or billing issues. More than 80% of respondents said customer service was the most important factor "influencing their loyalty to a provider" besides quality care. "While it is paramount for healthcare organizations to provide quality care, they must also focus on building a strong online presence and a seamless customer journey. It's what today's patients expect," Zimiles said.
Understanding the growing importance that online reviews play on their practices, providers are increasingly fighting back and even using the legal system to combat negative reviews.