CLICK
HERE
 and let us show how BHM's economically maintain turn-around times and accuracy for new members.

drug prices  drug prices



---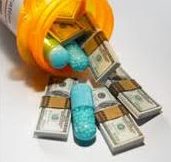 CMS issued a proposed rule Nov. 26 that would allow insurers to implement broader use of step therapies or drop coverage of certain protected classes of drugs if price increases outpace inflation. Below is a breakdown of the winners and losers under the proposed rule changes.
Potential losers:
1. Medicare-reliant drugmakers. Three drugmakers — Amgen, Regeneron Pharmaceuticals and Roche Holdings — are often cited as having the most to lose when there are proposed changes to Medicare, Bloomberg reports. These three may see a revenue hit as Regeneron's blockbuster Eylea, Roche's Avastin and Amgen's portfolio of blood medications receive a large portion of their revenue from Medicare.
2. Top HIV manufacturers. Current policy requires Medicare Part D plans to cover drugs in six categories known as "protected classes," including antidepressants, antipsychotics, anticonvulsants, immunosuppressants for treatment of transplant rejection, antiretrovirals and antineoplastics. The proposed rule would create exemptions. As a result, top HIV manufacturers like Gilead Sciences and GlaxoSmithKline may be hurt by the proposal.
3. Antidepressant and antipsychotic makers. The proposed changes will harm a wider circle of drugmakers, according to Bloomberg.  Several big name drugmakers have large portfolios of antidepressants and antipsychotic drugs, including AstraZeneca, Pfizer, Allergan, Bausch Health, Lilly and Otsuka Holdings. These drugmakers may face new challenges and be deterred from price hikes as a result of the proposals.
Potential winners:
1. Insurers. The new rules could benefit UnitedHealth, Humana and WellCare the most, according to Bloomberg. UnitedHealth is already using step therapy, where patients try cheaper drugs first before taking a more expensive treatment. The proposed rule would expand the use of this practice, and UnitedHealth already has the infrastructure in place to implement the practice.
2. Pharmacy benefit managers. The rule would also favor PBMs because they will get "incremental negotiating leverage." Before, PBMs had no power to negotiate lower drug prices for Medicare Advantage or Part D plans.
Read the full report here.
Increasing costs for prescriptions is creating a long-term financial impact on Medicare Part D and its beneficiaries. Can your claims review resources maximize the turn around time needed for complex claims? CLICK HERE and let us show how BHM's economically maintain turn-around times and accuracy for new members.