---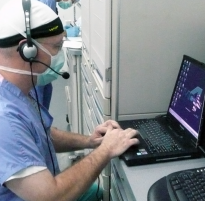 Telehealth programs for neonatal resuscitation were associated with a reduction in transfers from hospitals without newborn intensive care units, a reduced transfer risk and an increase in community hospital revenue, according to a study published in Health Affairs.
For the study, researchers examined data from Salt Lake City-based Intermountain Healthcare on eight community hospitals that implemented video-assisted resuscitation between November 2014, and December 2015, to level 3 newborn intensive care units.
The study found neonatal telehealth reduced transfers from hospitals without newborn intensive care units at a rate of 0.70 per facility per month and was associated with a 29.4 percent reduction in a newborn's risk of being transferred.
Study authors said this corresponded to 67.2 fewer transfers annually at the eight hospitals studied and projected savings of $1,220,352 annually, based on an average cost of $18,160 per air medical transfer.
"Avoiding transfers keeps families closer to home, increases community hospital revenue and eliminates transfer-associated risk," the authors concluded. "Yet lack of reimbursement for telehealth limits its adoption. Policy changes are necessary to align payment incentives and promote the use of telehealth services."
Healthcare organizations are increasingly looking to adopt telehealth programs, but they face a number of policy barriers that hinder their plans, according to the Center for Connected Health Policy. Payers are rapidly becoming educated and are keen on closing the gap. Click HERE to discuss how BHM helps payers.