URAC accreditation consulting valuation begins with seeing the importance of earning a credential. The multifaceted world of accreditation can be daunting, from choosing the right accreditation body to getting correct documentation in place to ensure accreditation success.
Measuring Internal Quality Efforts
The paper, Impact of Accreditation on the Quality of Healthcare Services summarizes the net positive affect on quality.
"There is consistent evidence that shows that accreditation programs improve the process of care provided by healthcare services. There is considerable evidence to show that accreditation programs improve clinical outcomes of a wide spectrum of clinical conditions. Accreditation programs should be supported as a tool to improve the quality of healthcare services."
Federal and State Laws
NCQA programs are used across the country to assist states in delivering quality care and holding providers accountable. Each state takes a unique approach to the process. Click HERE for the map to see which NCQA programs each state uses to help meet their quality priorities.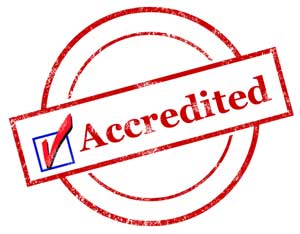 There are many drivers for organizations to seek certification or accreditation. A number of Federal and State laws reference or require accreditation. Here, a compendium resource, lists the federal and state laws/regulations that reference or require the use of certification/accreditation.
This list will be updated periodically based on readily available public information. This document should not be used as a compliance tool. The purpose of this document is to aid interested parties in research only. Compliance questions should be directed to your organization's compliance team or the responsible government agency.
Requirement for Participation in Medicare and Medicaid
Twenty-seven states require that health plans serving their Medicaid population be accredited by NCQA – with seven others accepting our HPA as meeting broad accreditation requirements.
Twelve states use the results of the accreditation process to satisfy federal oversight requirements. Invoking Medicaid's "non-duplication" provisions (also known as "deeming") allows states to:
Simplify administrative review efforts.
Reallocate resources to other priority projects.
Demonstrate their commitment to maximizing limited oversight resources.
Acknowledge health plans that have gone through the rigorous NCQA accreditation process.
Read how Tennessee Medicaid (TennCare) is maximizing oversight resources by deeming accredited plans HERE.
Medicaid Managed Care Toolkit
Each year, NCQA publishes the Medicaid Managed Care Toolkit showing states what NCQA Health Plan Accreditation standards can be mapped to external quality review activities.
Slightly more than 75% of NCQA standards overlap with mandatory external quality review activities. As noted above, plans that have met these standards through NCQA accreditation may be deemed as complying with federal requirements.
Download the toolkit HERE.
URAC Accreditation Consulting Decision
Your organization decides earning an accreditation or re-accreditation makes sense, but do you need a third-party helping you through the process? In the midst of ongoing, urgent business imperatives, it is challenging to
Develop an accreditation plan,
Marshal resources, and
Drive the organization toward quality accreditation
Taking action to assess the organization, then develop, manage, and monitor a quality improvement plan, and implement change in the midst of ongoing operational requirements can seem overwhelming.
Getting external, experienced assistance can jumpstart the organization's quality journey by providing an objective evaluation of survey readiness, provide insight on structuring the response development, and help with challenges, such as providing an outside perspective to help tell the health plan's story in a comprehensive and cohesive way.
When selecting a vendor,
Review their track record for first-time applications
Verify the vendor holds accreditations
Check the timeliness and adherence to budget
Ultimately, gaining accreditation may no longer be a desirable, competitive advantage: It is becoming a requirement to stay in business.
---
Editor's Note:
URAC accreditation consulting valuation begins with seeing the importance of earning a credential. BHM holds the distinction of 100% first submission success rate for accreditation clients. CLICK HERE and we can discuss how BHM's expertise eases your organization's path to accreditation.