BHM industry experts provide consultation to organizations seeking accreditation with The Joint Commission (TJC). Our first-hand knowledge of the intricacies of the accreditation process translates into targeted guidance for your organization and strengthens quality of care, treatment, and services. BHM is committed to providing high-quality consultative services and assistance with program development in a cost-effective and timely manner.
100% Accreditation Achievement Success Rate
Accreditation can be daunting for both new and existing organizations. BHM are experts in the accreditation field. Our consultants have helped a number of organizations achieve successful accreditation. In fact, to date, BHM clients have a 100% success rate in gaining the accreditation that their organization sought. Let our consultants apply unique processes together with expert guidance to assist your organization in obtaining the desired credentials.
BHM's roadmap to successful accreditation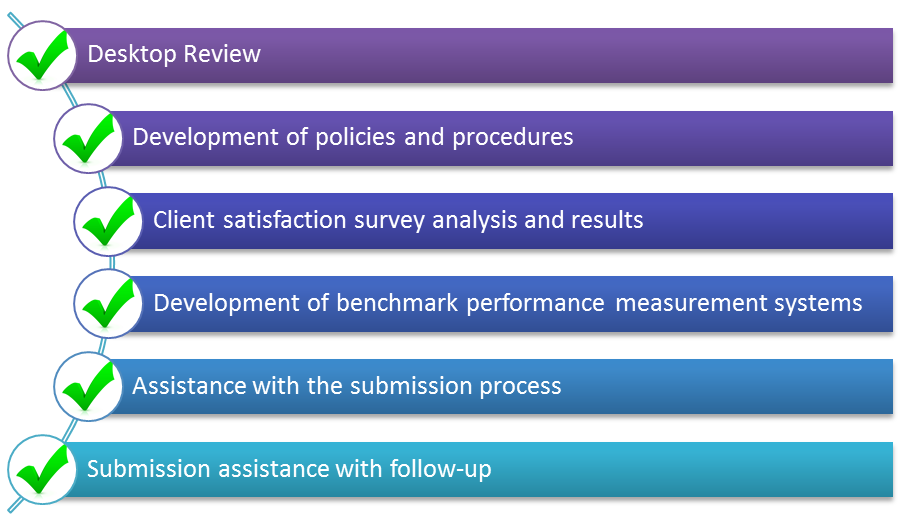 Why BHM?
Proven blueprints – templates and tools that your organization can implement easily
Expert assessment of documentation to ensure compliance to TJC standards
On-site mock audits that deliver intensive, hands-on preparation
Assistance with the assembly and upload of entire application to TJC accreditation extranet website
Development of comprehensive policies and procedures and alignment of business practices with TJC's elements of performance
Management of your accreditation, ensuring seamless maintenance and eventual re-accreditation success
The Importance of Accreditation
Accreditation from various agencies Is not only vital to the success of any healthcare organization, but essential to licensure and compliance in some cases. Accreditation is a symbol of excellence and represents a commitment to quality and patient safety. Accreditation instills trust and confidence in current and potential relationships with customers, patients, provider, patients, and employees.
An independent, not-for-profit organization, The Joint Commission accredits and certifies more than 20,000 health care organizations and programs in the United States. Joint Commission accreditation and certification is recognized nationwide as a symbol of quality that reflects an organization's commitment to meeting certain performance standards.
For more information on The Joint Commission, please visit the Joint Commission.