Quality Improvement Program Consulting: Meaningful Change to Enhance Profitability and Patient Satisfaction
Reimbursement is now tied at least in part to quality of care and customer satisfaction scores. More emphasis is being placed on the customer experience. Organizations are thinking outside of the box in focusing on quality initiatives. Quality is not an annual occurrence to ensure high scores at the time of an accreditation survey, but needs to be an ongoing task part of daily regimens. Quality improvement involves constantly reviewing results and processes to ensure the demands of customers are not only met but exceeded.
BHM has a current 100% Client Satisfaction Rating and has worked to develop robust quality improvement programs for Providers, MCOs, ACOs, and Hospitals across the nation.
Our extensive experience with quality improvement for healthcare can help your organization:
Increase patient satisfaction
Score higher on accreditation surveys
Lower healthcare costs
Increase reimbursement
Reach a broader audience of patients
Understanding the components of effective care and industry market strengths are vital in the formation of a meaningful quality improvement program. At BHM, our expert consultants deliver breakthrough performance improvements utilizing best practices integrated throughout both the clinical and operational aspects of healthcare.
BHM's four step process for success includes: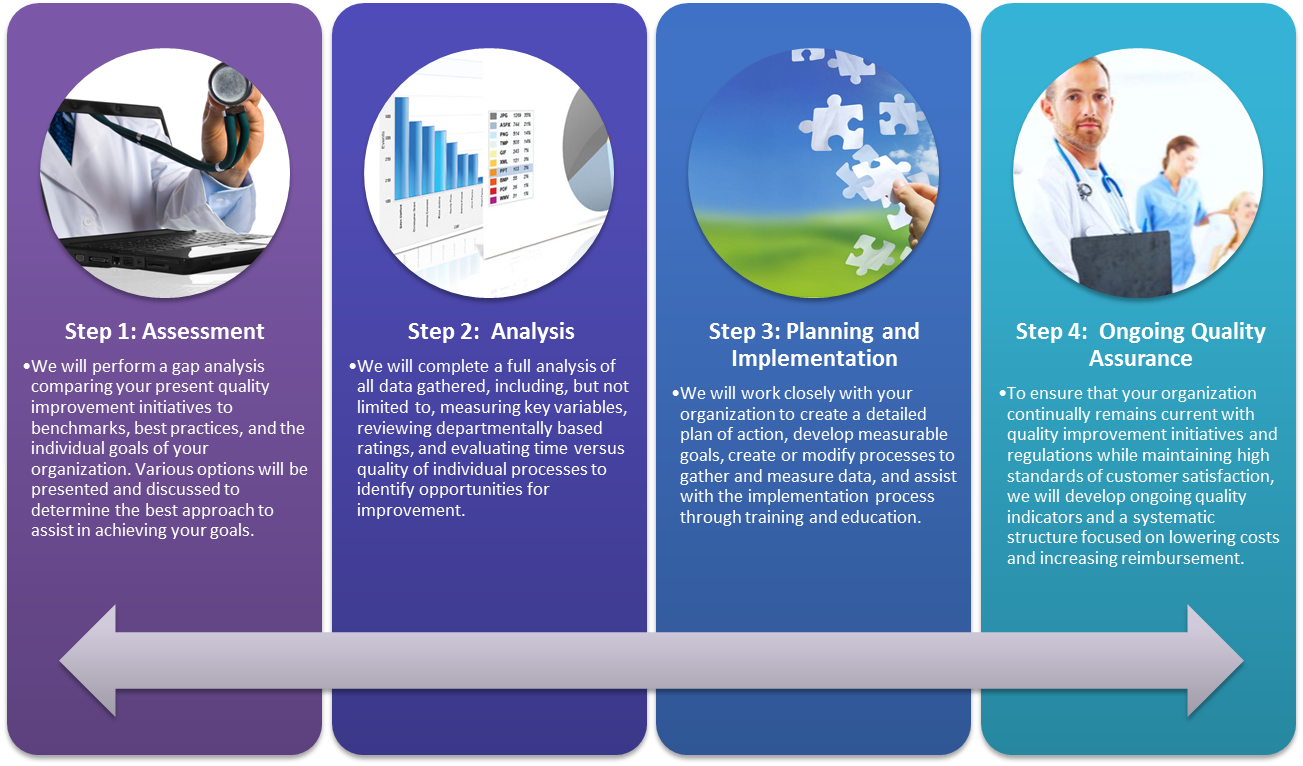 BHM will tailor Quality Improvement initiatives to the specific needs of your organization including any or all of the following services:
Design, implementation and evaluation of our 4 step quality improvement program
Development of committee structure and function
Development of benchmarks for quality improvement including indicators and measures
Development and presentation of all related educational materials
Creation of cross coordination planning between different areas of health care
Assessment of standards for provider and service accessibility
Unique training programs to address the QI needs of your organization
Review of communication practices with stakeholders
Critical Marker assessments to evaluate your quality management organization and capabilities
Detailed look and analysis of strategy, infrastructure, organization, process, and culture
Quality Improvement Program Optimization for Increased Revenue – alignment of revenue with QI benchmarks