Our guest post this week from Practice Bridge covers the very near implementation date of ICD-10.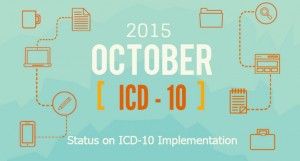 "We will be using ICD-10 in a few weeks. But before that do you know the status on ICD-10 implementation? With the help of coding veterans and influencers, I have come up with few facts most healthcare professionals miss out. In this infographics our experts have shared 6 foundation blocks for successful ICD-10 implementation. Let me break down the facts and foundations for you." – Victoria Migliaccio
Author Bio: Victoria Migliaccio is the one of the revenue cycle managers at PracticeBridge Inc., a Medical Billing company from New Jersey and watches the RCM space closely. She is an avid blogger and writes about Medical billing, Coding, RCM and other industry news. She provides insights, tips and ideas about practice management and EMR/EHR software.