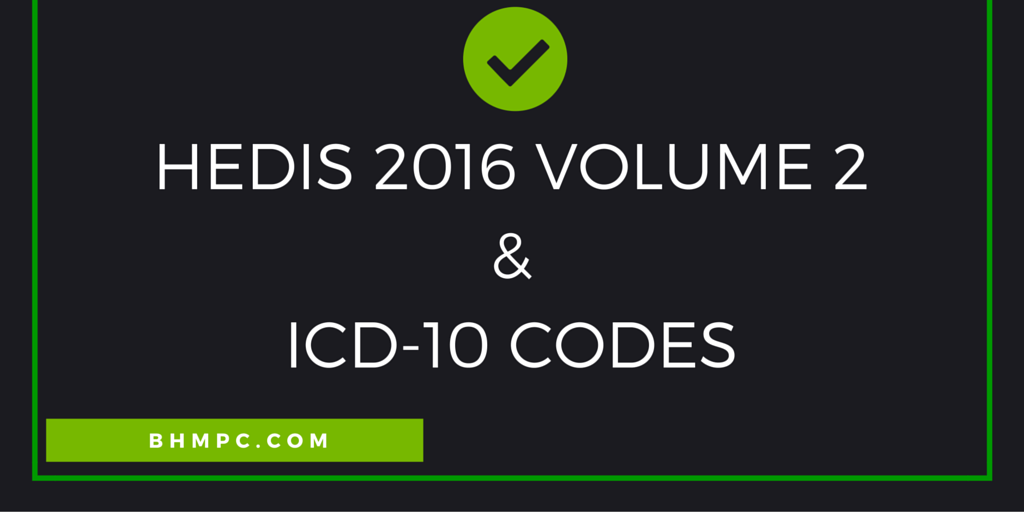 HEDIS 2016 Volume 2 and ICD-10 have both arrived. The NCQA announced on September 29, 2015 that the 2nd volume of HEDIS 2016 (The Healthcare Effectiveness Data and Information Set) would be completely ICD-10 compliant and ready for the implementation day of OCT 1. The NCQA has phased out the ICD-9 codes as per NCQA regulations and added over 73,000 ICD-10 codes, across 56 HEDIS measures.  "Health plans, health data clearinghouses and health care providers will now be able to code records to comply with CMS requirements for HEDIS reporting."
What is HEDIS?
According to the NCQA HEDIS "is the gold standard in health care performance measurement, used by more than 90 percent of the nation's health plans and many leading employers and regulators. HEDIS is a set of standardized measures that specifies how organizations collect, audit and report performance information across the most pressing clinical areas, as well as important dimensions of customer satisfaction and patient experience."
The HEDIS measures address a variety of medical issues including:
Asthma Medication Use
Persistence of Beta-Blocker Treatment after a Heart Attack
Controlling High Blood Pressure
Comprehensive Diabetes Care
Breast Cancer Screening
Antidepressant Medication Management
Childhood and Adolescent Immunization Status
Childhood and Adult Weight/BMI Assessment
How it is Used
"Many health plans report HEDIS data to employers or use results to improve quality of care and service." HEDIS data is used to help employees and consumers review health plans and select the best plan for their needs. The State of Health Care Quality report, which "a comprehensive look at the performance of the nation's health care system" also includes HEDIS data. All data is rigorously audited by certified auditors using a process designed by NCQA.
Why it Matters
HEDIS was created to provide the information needed to reliably compare the performance of health care plans.  HEDIS data is used in Quality Compass, a web-based comparison tool which allows users to view plan results and benchmark information. Quality Compass is a great resource for consumer when selecting a health plan. For Health Plans, Quality Compass can even be used to conduct competitor analysis, examine quality improvement and benchmark plan performance. View the NCQA's Quality Compass page here.
2016 HEDIS Products
The NCQA's 2016 HEDIS product can be found here.
The National Committee for Quality Assurance (NCQA)  is a private, 501(c)(3) not-for-profit organization dedicated to improving health care quality. Since its founding in 1990, NCQA has been a central figure in driving improvement throughout the health care system, helping to elevate the issue of health care quality to the top of the national agenda. For more information on the National Committee for Quality Assurance (NCQA) please visit the NCQA website.
If you are thinking about accreditation, check out our free white paper on the Secrets to Accreditation Success! You can downloaded the white paper here.