Nationally Recognized Healthcare Training Programs to Meet Your Needs.
BHM offers nationally recognized training programs which can be deployed to cut through the complexity of healthcare, and assist your staff in addressing critical knowledge gaps.
Our trainings have been featured at the following conferences: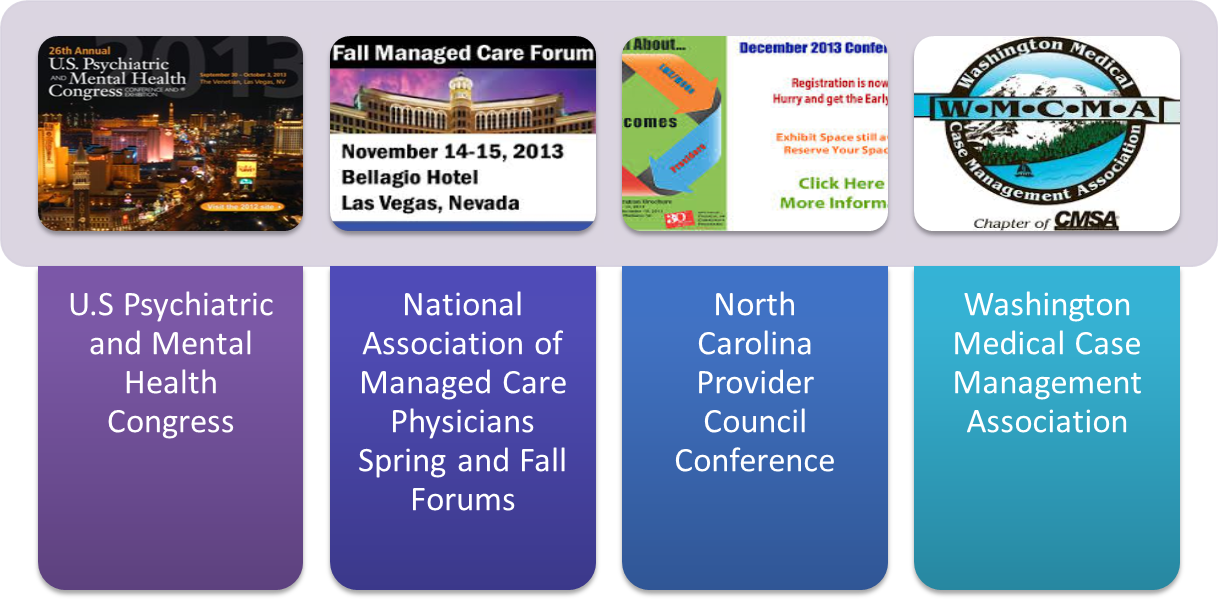 Healthcare is a continuously evolving and rapidly changing field. To ensure that members of your organization are equipped with the most up to date information and access to cutting edge technologies and techniques is crucial, which is why training should be part of your organization's continuous quality improvement. At BHM we offer multiple training programs with platforms ranging from Denial Management to Mental Health Parity all customized to meet the unique needs of our clients.
Choosing one of our unique and innovative training programs will ensure that your organization and employees remain current with relation to healthcare issues, and the latest operational strategies.  From Leadership Development to Denial Management Reduction Training to learning the ins and outs of Behavioral Health Parity we can customize a training program to then needs of your organization.
Some of our topics include:
Denial Management
Revenue Cycle Improvement
Clinical Operations Improvement
Coding/Billing Optimization
ADHD
Dementia
Managed Care and Profitability
Preparation for Accreditation
Improving Utilization Management Efficiencies
Clinical Performance
Best Practices
Treating Bipolar Affective Disorder
Treating Schizophrenia in a Managed Care Environment
Leadership
Case Management
Regulatory Compliance
HIPAA Compliance
Optimizing Organizational Performance
Clinical Supervision
All training programs include:
Interactive presentations specifically developed to meet the needs of your organization, presented by an expert in the field who is able to answer questions that you may have about the topic
Educational materials such as brochures, PowerPoint presentations, handouts, webinars, workbooks, and learning objectives
One on one conferencing time with one of our associates to direct and tailor the training needs of your organization in order to meet your specific objectives
Prior approval of your organizational training materials and topics
A follow-up session addressing any ongoing questions that your members may have post training
Learn How You Can Boost Profitability by Using Medical Necessity Criteria With This Expert Presentation!