As healthcare continues to change, so do some of the roles within the industry, but no role has perhaps experienced a shift quite as significant as the Medical Director. This position has taken on a dramatic evolutionary shift in responsibility and scope.
The roles and responsibilities now require stretching medical directors' skills into contract negotiations, group dynamics, organizational development, team management, and many areas not covered in a traditional medical curriculea.
One of the most impactful, administrative legal aspects to a medical director's responsibilities are the set of federal laws known as Stark Law.
Stark Law
Stark Law is a set of United States federal laws, actually three separate provisions, that prohibit physician self-referral, specifically a referral by a physician of a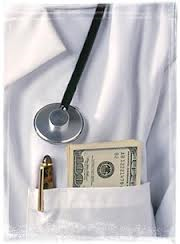 Medicare or Medicaid patient to an entity providing designated health services ("DHS") if the physician (or an immediate family member) has a financial relationship with that entity. These govern physician self-referral for Medicare and Medicaid patients. The law is named for United States Congressman Pete Stark, who sponsored the initial bill.
Stark Law guidelines can be found Here and FAQs Here.
Liability Coverage
Physicians serving as medical directors may be surprised to discover their professional liability policy excludes medical director duties, and separate coverage is required. Therefore, it is important to ensure medical liability coverage prior to accepting a medical director position.
NORCAL Insurance Company, a medical professional liability insurance carrier that provides coverage to physicians, health care extenders, medical groups, hospitals, community clinics and allied health care facilities throughout the country, released two case scenarios and in-depth discussions illustrating the hazards of medical director liability, Overextension and Off-Site Supervision. Click for cases of Medical Director Risk and Value
Demographics of the Profession
Zippia, a job services organization, estimates demographics and statistics for medical directors in the United States. They estimate were verified against BLS, Census, and current job openings data for accuracy. After extensive research and analysis, Zippia's data science team found:
There are over 20,570 medical directors currently employed in the United States.
43.0% of all medical directors are women, while 57.0% are men.
The average age of an employed medical director is 47 years old.
The most common ethnicity of medical directors is White (68.5%), followed by Hispanic or Latino (12.4%), Black or African American (9.8%) and Asian (6.9).
Medical directors are most in-demand in New York, NY.
Seattle, WA pays an annual average wage of $260,967, the highest in the US.
In 2021, women earned 89% of what men earned.
Idaho is the best state for medical directors to live.
Medical directors are 54% more likely to work at private companies in comparison to public companies.
Details regarding medical director demographics are HERE.
Medical Director Risks and Value
One could state the clinical emphasis of the position of Medical Director is a thing of the past, and that today's Medical Director needs to embody a newly rounded individual who is not singularly focused on clinical decision making and policy creation.
Dighton Packard, MD, Chief Medical Officer, EmCare wrote a great article, drawing on his own experiences, outlining characteristics of great medical directors for www.beckershospitalreview.com. His insights apply to medical directors in both payer and provider settings.
Many physicians are also natural problem solvers, so moving into executive roles and attempting to improve the delivery of healthcare is something many find appealing. But moving from caregiver to leader isn't always easy. And please note I use the term "leader" and not "manager." Those are two very different terms. – Dighton Packard, MD, Chief Medical Officer, EmCare
Dr. Packard recommends these five characteristics: Listening, Vision, Integrity, Empathy, and Optimism.
Listening: "So when I meet a doctor who is a good listener, who really understands and processes what others say, I know he or she has the potential to be an excellent leader."
Vision: A good leader is able to manage the current challenges and the daily grind while still being able to step back and focus on the big picture over time.
Integrity: "A good medical leader remembers why they're there and holds tightly to the moral compass that initially called them to become healers."
Empathy: "In a healthcare setting, we often empathize greatly with patients but neglect to extend the same consideration to our coworkers, who may need it just as much."
Optimism: "The leaders that can stand and face them with cheer and excitement and view these changes as opportunities to improve will inspire those around them."
The Journal of Occupational and Environmental Medicine offers a piece regarding the 'Role and Value of the Corporate Medical Director'
---
Editor's Note:
Preparing for the next medical director transition, consider these successful medical director characteristics, and also, consider BHM during personnel changes. BHM delivers seamless transition support and day-to-day work management options. CLICK HERE and we can discuss how BHM's review network can go to work for your organization.