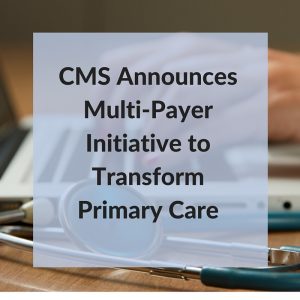 The Centers for Medicare and Medicaid Services (CMS) announced the launch of Comprehensive Primary Care Plus (CPC+), a new initiative that hopes to help transform and improve the ways primary care is delivered and paid for.  CPC+ will help primary care practices move away from traditional fee-for-service models and the "one size fits all" mentality, to a more unified system of care where doctors have the freedom to provide the highest quality targeted care for their patients. The 5-year initiative "will be implemented in up to 20 regions and can accommodate up to 5,000 practices, which would encompass more than 20,000 doctors and clinicians and the 25 million people they serve." This effort is designed to help give doctors more freedom by giving them the ability to give care they believe will deliver the best outcome and "to pay them for achieving results and improving care."
"Strengthening primary care is critical to an effective health care system," said Dr. Patrick Conway, CMS deputy administrator and chief medical officer. "By supporting primary care doctors and clinicians to spend time with patients, serve patients' needs outside of the office visit, and better coordinate care with specialists we can continue to build a health care system that results in healthier people and smarter spending of our health care dollars. The Comprehensive Primary Care Plus model represents the future of health care that we're striving towards."  Dr. Patrick Conway, CMS Deputy Administrator & Chief Medical Officer
The new initiative builds off the Comprehensive Primary Care initiative of 2012 but will be 10 times larger and hoped to benefit patients by helping primary care practices:
Support patients with serious or chronic diseases to achieve their health goals
Give patients 24-hour access to care and health information
Deliver preventive care
Engage patients and their families in their own care
Work together with hospitals and other clinicians, including specialists, to provide better coordinated care
The initiative will consists of two tracks, both which will require primary care practices to "perform the functions and meet the criteria" listed above.  listed above. Track 2 however, will include more comprehensive services for patient with complex medical or behavioral health needs.  According the CMS, "both tracks will receive up-front incentive payments that they will either keep or repay based on their performance on quality and utilization metrics. You can learn more about each Track in depth here.
Medicare will also play a large part in the new CPC+ initiative. According to CMS, Medicare will partner with commercial and state health insurance plans to help support primary care practices delivering advanced primary care. Advanced primary care is modeled on these 5 components:
Services are accessible, responsive to an individual's preference, and patients can take advantage of enhanced in-person hours and 24/7 telephone or electronic access.
Patients at highest risk receive proactive, relationship-based care management services to improve outcomes.
Care is comprehensive and practices can meet the majority of each individual's physical and mental health care needs, including prevention. Care is also coordinated across the health care system, including specialty care and community services, and patients receive timely follow-up after emergency room or hospital visits.
It is patient-centered, recognizing that patients and family members are core members of the care team, and actively engages patients to design care that best meets their needs.
Quality and utilization of services are measured, and data is analyzed to identify opportunities for improvements in care and to develop new capabilities.
The 5-year multi-payer model will begin in January 2017 and CMS will solicit proposals in April 2016, once CPC+ regions are selected, eligible practices may apply beginning in July 2016. More information here.