patient/member experience. CLICK
HERE
to learn more about how BHM helps your organization build resources while focusing on patient/member experiences.

---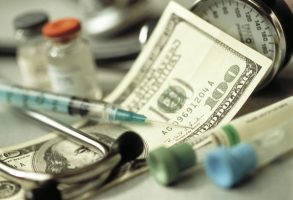 A report PwC's Health Research Institute (HRI) showed the era of volatile swings and double-digit growth in employer medical costs appears to be ending. With medical cost trend hovering in the single digits for several years, the industry has been waiting for the inflection point when spending will take off. But that spike appears unlikely to happen. The New Health Economy is settling into a "new normal," with 5 medical cost pressures shaping the coming year.
For four years, medical cost trend has hung between 6 and 7 percent, seeming to settle into a "new normal." PwC's Health Research Institute (HRI) anticipates a 6.5 percent growth rate for calendar year 2018, half a percentage point higher than in 2017.
After likely changes in benefit plan design, such as changes to co-pays and network size, the net growth rate is expected to be 1 percentage point lower, at 5.5 percent.HRI's analysis measures anticipated spending growth in the employer-based market, which covers about half of all Americans.¹ Changes to government health insurance, including Medicare, Medicaid and plans sold on the public exchanges created by the Affordable Care Act (ACA), are not within this analysis' purview.
HRI's research found that three factors will put upward pressure on medical cost trend in 2018.
Rising general inflation impacts healthcare. As the U.S. economy heats up, a rise in general inflation during 2016 and 2017 will likely put upward pressure on wages, medical prices and overall cost trend in 2018. Higher general inflation has the biggest impact in healthcare through salary and benefits, but also affects the cost of other inputs such as medical devices and pharmaceuticals. ²
Movement to high-deductible health plans loses steam. The wave of growth in high-deductible health plans, employers' go-to strategy in recent years to curb health spending, may be plateauing. Employers are recognizing a limit to how broadly cost sharing can be used to encourage more price-conscious decisions. At the same time, in a competitive labor market, employers have less appetite for scaling back benefits and continuing with a plan design that has proven largely unpopular with employees.³
Fewer branded drugs come off patent. For two consecutive years, the U.S. pharmaceutical sales revenue associated with patent expirations for branded, small molecule drugs has declined. Employers may have less opportunity to encourage employees to buy cost-saving generics in 2018.4
Two forces may partially offset these health spending increases.
Political and public scrutiny puts pressure on drug prices. Heightened political and public attention could encourage drug companies to moderate price increases. Similar scrutiny in the early 1990s resulted in a dramatic decrease in the drug price growth rate. The industry is already seeing some pharmaceutical companies take action, limiting price increases, offering cheaper alternatives and proactively addressing questions of value.
Employers target right people with right treatments to minimize waste. In an effort to ensure employees maintain access to care while minimizing waste, employers are learning to better manage and deploy new treatments, technologies and information. They are doubling down on tactics such as prescription quantity limits and exploring new technologies such as artificial intelligence to match people with the best treatment.
In addition to these new and emerging issues in 2018, there also are forces that perennially influence healthcare costs. These include economy-wide drivers, such as demographics and American lifestyle trends, as well as sector-specific influences, such as hospital consolidation and changes in payment models. In 2018, these recurring factors will place upward and downward pressure on cost trend.
"Yesterday's strategy of encouraging lower utilization through increased cost-sharing with consumers has run its course," said Kelly Barnes, U.S. Health Industries and Global Health Industries Consulting Leader, PwC. "For medical cost trend to slow further, industry leaders will need to look at new strategies that focus on bringing health prices down."
Even with medical cost trend between 6 and 7 percent, health spending continues to outpace the economy. From 2011 to 2016, the average health premium for family coverage purchased through an employer rose 20 percent.5 In the same period, wages increased just 11 percent.6 This gap erodes consumers' ability to pay for other goods and services, including housing, food and transportation.
Nationally, as medical costs are projected to continue to grow faster than gross domestic product (GDP), healthcare will continue to take up a greater share of the economy.7 This could lead to larger budget deficits or less spending in areas such as education, infrastructure and defense. Even the "new normal" is not sustainable. For several years, employers largely have stabilized trend growth by increasing cost-sharing with employees, who in turn slow their use of health goods and services. However, consumers are becoming more attuned to what they spend on their health.8 They are voicing dissatisfaction with high-deductible health plans.9 They also are forgoing cost-effective services such as preventive care, which can result in the need for higher-cost health services later.10
For medical cost trend to sink lower than its "new normal," health organizations and businesses will have to consider tackling the price of services as well as the rate of utilization.
Heading into 2018,
Employers should look to new contract arrangements with providers to tackle healthcare prices without shifting more costs to employees.
Providers should focus on improving care management and optimizing their use of physician extenders and nonclinical staff to keep costs down.
Health insurers, in an effort to prove their value to employers, could work to steer patients to the most effective treatments and help providers accelerate pricing transparency efforts.
Drug companies should focus on increasing collaboration across the industry, giving stakeholders greater insight into their pricing and the role they play in keeping patients healthy and out of high-cost delivery settings.
Medical cost pressures challenge a consistent patient/member experience. CLICK HERE to learn more about how BHM helps your organization build resources while focusing on patient/member experiences.
Notes
Kaiser Family Foundation, "2016 Employer Health Benefits Survey," Sep. 14, 2016, http://kff.org/report-section/ehbs-2016-summary-of-findings/
Josh Zumbrun, "This is Now the Third-Longest Economic Expansion in U.S. History," Wall Street Journal, March 1, 2017, https://blogs.wsj.com/economics/2017/03/01/this-is-now-the-third-longest-economic-expansion-in-u-s-history/.
PwC Health Research Institute analysis of PwC Health and Well-being Touchstone Survey for 2017, Spring 2017.
Kaiser Health News, "More companies encourage increased use of generic medications," June 11, 2009, http://khn.org/morning-breakout/dr00040769/.
Kaiser Family Foundation, "2016 Employer Health Benefits Survey," Sep. 14, 2016, http://kff.org/report-section/ehbs-2016-summary-of-findings/.
Bureau of Labor Statistics, "Average Hourly Earnings of Production and Nonsupervisory Employees," https://data.bls.gov/timeseries/CES0500000008.
Sean P. Keehan, Devin A. Stone, John A. Poisal, et al. "National Health Expenditure Projections, 2016-25: Price Increases, Aging Push Sector to 20 Percent of Economy," Health Affairs 36, No. 3, 2017.
Strategy&, "The birth of the healthcare consumer: Growing demands for choice, engagement and experience," Oct. 2014, https://www.strategyand.pwc.com/media/file/The-birth-of-the-healthcare-consumer.pdf.
PwC Health Research Institute Consumer Survey, Spring 2017
Urban Institute, "Payment methods and benefit designs: How they work and how they work together to improve health care," April 2016, http://www.urban.org/sites/default/files/02_high-deductible_health_plans.pdf