---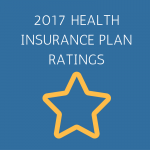 NCQA's Health Insurance Plan Ratings 2017–2018 compare the quality and services of more than 1,000 health plans in the United States and provide consumers with a practical and meaningful guide to understanding their health care options and choosing the best health plans for themselves and their families. National Committee for Quality Assurance (NCQA) is releasing its 2017 Health Insurance Plan Ratings. These ratings provide consumers with a more accurate picture of how health insurance plans perform in the key quality areas of consumer satisfaction, prevention and treatment.
NCQA's Health Insurance Plan Ratings 2017–2018
Click the following links for the ranking and scoring details.
The ratings are a system similar to CMS Star Ratings of Medicare Advantage plans, and give unprecedented importance to health outcomes and consumer satisfaction.
NCQA studied 1,429 health plans and rated 1,062: 498 private (commercial), 386 Medicare and 178 Medicaid.
Top Ten States with the Highest-Rated Health Plans (receiving a 4.5 or 5.0 out of 5 rating) for Three-Year Average:
1. Massachusetts
2. Rhode Island
3. Maine
4. New Hampshire
5. Wisconsin
6. Minnesota
7. Hawaii
8. New York
9. Vermont
10. Iowa
Key Takeaways from the 2017–2018 Ratings:
States with the Top Performing Plans Consistently Deliver: Over the last three years, there's been very little movement within the top ten states except for Iowa and Hawaii, that in 2015 were 12th and 11th respectively and moved into the top ten in 2016 and 2017.
High and Low Performers Are Rare: Of the 1,062 rated plans, 103 (10%) received a top rating of 4.5 or 5.0 out of 5. Twenty-three (2%) earned the ratings of 1.0 to 2.0.
Ratings Focus on Satisfaction & Outcomes
The ratings consist of three major performance categories: consumer satisfaction, prevention and treatment.
Consumer Satisfaction: What patients say about their health plans in satisfaction surveys, including about claims processing and customer service.
Prevention: Checkups, tests and other care that keeps people—especially children—healthy.
Treatment: How consistently a plan provides scientifically recommended care for common, costly conditions such as diabetes, depression and heart disease.
In each category, the results—outcomes—of a patient's care count extra in the scoring; for example, whether blood pressure and diabetics' blood sugar are controlled to safe, recommended levels.
This emphasis on results means that, together with consumer satisfaction, outcomes are the main driver of ratings results.
Ratings Provide:
Simple, User-Friendly Scale: The NCQA ratings blend dozens of quality indicators for health plans into a simple scale from 1–5, where 1 indicates lower performance and 5 indicates higher performance. By grouping plans into a few broad categories, the ratings give consumers a practical, meaningful guide to understanding their health care choices at a level of detail they choose.
Details on Demand: Consumers can "drill down" into any part of the ratings to learn how a health plan handles particular health issues or patient populations. For example, expectant parents may be interested in performance on two measures of prenatal and postpartum care. Families may be interested in quality results on 10 measures of pediatric preventive care and treatment, ranging from well-child care for infants, to monitoring ADHD treatment of 12-year-olds.
NCQA's Health Insurance Plan Ratings will be available on WebMd.com. For information on how the ratings were calculated, visit NCQA ratings methodology: http://bit.ly/2f6HFiX
Health Insurance Plan Ratings 2017–2018 compare the quality and services. BHM is proud to play a key role for our clients through our claims review services. Click HERE and discuss how BHM helps payers succeed.
###
About NCQA
NCQA is a private, non-profit organization dedicated to improving health care quality. NCQA accredits and certifies a wide range of health care organizations. It also recognizes clinicians and practices in key areas of performance. NCQA's Healthcare Effectiveness Data and Information Set (HEDIS®) is the most widely used performance measurement tool in health care. NCQA's Web site (ncqa.org) contains information to help consumers, employers and others make more informed health care choices. NCQA can be found online at ncqa.org, on Twitter@ncqa, on Facebook at facebook.com/NCQA.org/, and on LinkedIn at linkedin.com/company/ncqa.