---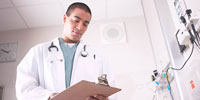 Physician burnout can contribute to patients' own burnout as they navigate their care, wrote Aisling Carroll, an ovarian cancer survivor and freelance writer, in an op-ed for STAT.
Ms. Carroll experienced poor health even after her cancer was gone. She wrote her diagnoses and treatments could have been made earlier if her physicians had been less burned out. Many of Ms. Carroll's physicians had more patients and paperwork than they could handle, she wrote.
Ms. Carroll was forced to change physicians many times and wrote, "My doctors' possible burnout, which contributes to physician turnover, was causing my own."
Ms. Carroll had better results when physicians had the time and energy to closely examine her case without the distraction of screens. She also learned that physicians had more time during the day's last appointment, which made her feel guilty for taking up more of their time after an exhausting day.
"Let's recognize the depth to which physician well-being and patient well-being are inextricably linked," Ms. Carroll wrote.
Given the rapidly changing health care environment, it is critical to quantify the economic impact physicians have on society. BHM watches health trends and understands the importance of improving and changing with the industry. Click HERE to learn more about how BHM helps your organization address opportunities.