---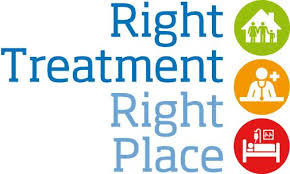 Summary: What do ASAM®, LOCUS®, CALOCUS®, and InterQual® all have in common? They are all level of care assessment tools, each with a different perspective.
Level of care isn't a new concept, but has gained in popularity in recent years. A level of care is used to indicate a level of intensity or severity and determine in what type of facility specific care should be performed. It is used to make sure the patient receives the right care in the right facility at the right time. While level of care tools may be determined by each individual state, all such tools must meet federal minimum guidelines. For a list of level of care tools which are approved for your state, please go to the Division of Health can Human Services website for your state. There are many level of care tools out on the market these days and there is no one assessment tool that is the end-all be-all. Some are known for their simplicity while others are more complex and comprehensive in nature.
4 of the more commonly known level of care assessment tools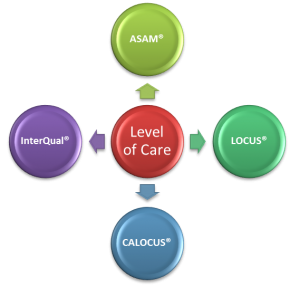 ASAM® level of care
The American Society of Addiction Medicine (ASAM®) has separate assessment criteria for adolescents and adults and determines levels of care by using both levels of treatment and dimensions. The levels of care include:
Degree of direct medical management provided
Structure
Safety
Security provided
Intensity of treatment services provided
ASAM Dimensions include:
Acute intoxication and/or withdrawal potential
Biomedical conditions and complications
Emotional, behavioral or cognitive conditions and complications
Readiness to change
Relapse, continued use, or continued problem potential
Recovery/living environment
LOCUS® level of care
LOCUS® and CALOCUS® were developed by the AACP and currently Deerfield Solutions is the sole software provider for the product. Level of Care Utilization System (LOCUS®) uses a combination of levels of care and variables within those levels of care.
The variables are:
Care Environment
Clinical Services
Support Services
Crisis Stabilization and Prevention
The levels of LOCUS® include:
LEVEL ONE – Recovery Maintenance and Health Management
LEVEL TWO – Low Intensity Community Based Services
LEVEL THREE – High Intensity Community Based Services
LEVEL FOUR – Medically Monitored Non-Residential Services
LEVEL FIVE – Medically Monitored Residential Services
LEVEL SIX – Medically Managed Residential Services
CALOCUS® level of care
Child and Adolescent Level of Care Utilization System (CALOCUS®) uses 7 levels of care to categorize the intensity of patients, interestingly enough starting at level 0:
Level 0: Basic Services
Level 1: Recovery Maintenance and Health Management
Level 2: Outpatient Services
Level 3: Intensive Outpatient Services
Level 4: Intensive Integrated Service Without 24-Hour Psychiatric Monitoring
Level 5: Non-Secure, 24-Hour, Services with Psychiatric Monitoring
Level 6: Secure, 24-Hour, Services With Psychiatric Management
InterQual® level of care
InterQual® is one of many products offered through McKesson. Currently, this level of care assessment tends to be the most comprehensive, while still providing ease of use. InterQual® has different level of care criteria based upon the setting.
The settings include:
Acute Care
Acute Pediatric
Acute Rehabilitation
Long-Term Acute Care
Subacute and Skilled Nursing Facility
Home Care
Outpatient Rehabilitation and Chiropractic
Benefits of InterQual®
Reduce over- and under-utilization
Increase the defensibility of decisions and reduce risk
Validate appropriate care with quality indicators, checklists and reporting
Align stakeholders
Support stakeholder performance management
Ease of use
This is just an introduction to 4 of the most common level of care assessment tools. Which one is right for your organization depends on your organization, the level of ease of use, budgetary considerations, and the level of support required. As mentioned above, each state has their own variations of approved level of care assessment tools. Consult your Division of Health and Human Services for information specific to your state.
Using Medical Necessity Criteria (MNC) and Level of Care (LOC) successfully requires constant attention, understanding, and on-going education. BHM's reviewer network expertise allows you to focus on quality patient care.  Click HERE and discuss how BHM's MNC expertise can overcome medical necessity criteria challenges and improve your metrics.
About BHM Healthcare Solutions – www.bhmpc.com
BHM is a healthcare management consulting firm whose specialty is optimizing profitability while improving care in a variety of health care settings. BHM has worked both nationally and internationally with managed care organizations, providers, hospitals, and insurers. In addition to this BHM offers a wide breadth of services ranging including healthcare transformation assistance, strategic planning and organizational analysis, accreditation consulting, healthcare financial analysis, physician advisor/peer review, and organizational development.
Contact Us : results@bhmpc.com, 1-888-831-1171