BHM has a proven track record of successfully assisting healthcare organizations in the transformation process. We also understand the importance of quality measures and continual improvement. Click here to find out how BHM can help your organization.

---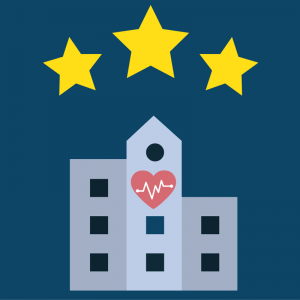 The Centers for Medicare & Medicaid Services released the final version of its hospital quality ratings in July and posted them to the Hospital Compare website. Many of the most well-known hospitals in the nation received below average scores, while lesser known facilities took the top scores.
The one to five star scale, rated 3,617 hospital across the nation in hopes of giving consumers a simple way to "objectively gauge quality." The ratings system received a lot of criticism by the industry, even before its launch. Many said the rating system was too harsh on hospitals. Hospitals argued that the ratings "will make places that treat the toughest cases look bad (Kaiser)." The ratings system launched today is still 3 months later than planned. CMS delayed the launch as took into account some of the push back.
According to CMS the Hospital Quality Star Rating is "designed to help individuals, their family members, and caregivers compare hospitals in an easily understandable way." CMS hoped the ratings system boosts transparency and encourage hospitals to look closer at the quality of care they provide.
The ratings combine 64 quality data measures already reported in Hospital Compare into one single rating for each hospital. Measures include: mortality, safety of care, readmission, patient experience, effectiveness of care, timeliness of care and efficient use of medical imaging.
The Hospital Compare Ratings
Over 3600 facilities rated
The Star ratings will be updated quarterly
More than 100 facilities received 5 stars, the highest rating, while 129 got only 1 star
1,752 received an average rating of 3 stars
927 hospitals received four stars
Facts to Keep in Mind
(Reported by Becker's Hospital Review) 
"A hospital's rating is only calculated using as many measures for which data is available. That means hospitals' star ratings could be based on as few as nine measures or as many as 64; the average is roughly 40."
"Despite being disappointed with CMS for releasing the overall ratings right now, most stakeholder groups still back the overall goal of the program — to be more transparent and allow stakeholders to make informed decisions."
For more in depth information on the new ratings system:

CMS releases overall hospital star ratings: 12 things to know
Many Well-Known Hospitals Fail To Score 5 Stars In Medicare's New Ratings