---
The promises of value-based payment models came to life within the last 12+ months with results of real world tests. Finance staff quickly push for the implementation of useful models and processes. With ramped-up implementations of models, overcoming value-based care barriers step out as real concerns. A recent Global Healthcare Leaders Study 2017 by Lazard illustrated the state of value-based payments.
55% believe the majority of healthcare payments in the U.S. will be tied to value by 2020.
Tipping point for value-based care is within the next few years.
Value-based care may have even more of an impact on the industry than will scientific breakthroughs.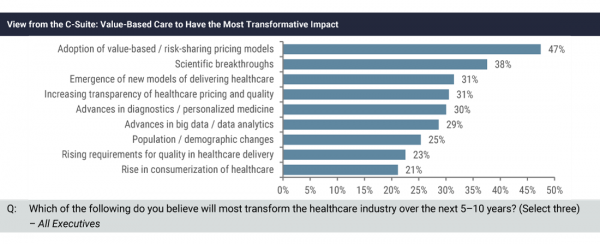 Value-Based Care Barriers
Unfortunately, one of the largest barriers to value-based care is staff knowledge. "If value-based care demands coordinated, team-based care, but physicians, care managers, and social workers are schooled only in the fee-for-service (FFS) model, then value cannot be achieved." Preparing the Healthcare Workforce for Value by Karen Wagner for the March 2017 HFMA Leadership Newsletter.
The article continues' "Jean Carlevale, RN, a healthcare consultant with Commonwealth Medicine, the public service consulting and operations division of UMass Medical School, says medical, social work, and nursing schools, along with other clinical institutions that provide education for healthcare professionals, have not embraced interdisciplinary training despite evidence that team-based education is critical for enhanced care. "Our learning institutions aren't producing clinicians at every level who actually are trained in a team-based model," she says."
Collaboration, Training, and Outsourcing: Keys To Success
The HFMA article suggested intense internal training programs for all levels of clinical care professionals addressing various topics related to coordinated care. Their view did not stop with educating the existing clinical workforce. Integrating collaborative care principals in throughout the curriculums for healthcare professionals must start now.
Processing Administration
The knowledge gap reflected in the clinical areas also appears in the revenue cycle processes. These review processes need experts with understanding of clinical relationships and contract details.
Outsourcing complex claims processing and review was reinforced by results from the Black Book RCM Survey.
Key Findings:
81% of hospitals state they lack the specialized talent to resolve very difficult claims, including 92% of hospitals under 150 beds.
69% of hospital CFOs state they must staff with high cost back office employees to compensate for current patient accounting systems which lack in functionality to manage complex types of claims activity.
49% of hospital CFOs acknowledge that outsourcing is becoming a more viable alternative in 2017 for more parts of their organizational claim processing.
BHM provides data reporting tools, metrics, and services integral to overcoming some value-based care barriers. By reviewing cases for utilization, medical necessity criteria, and process metrics, BHM determines shortfalls, especially on the most complex care like behavioral health.  Click HERE and discuss how BHM services reach your goals.